Carla Marcotulli, voice
Miona Deler, piano
Carla Marcotulli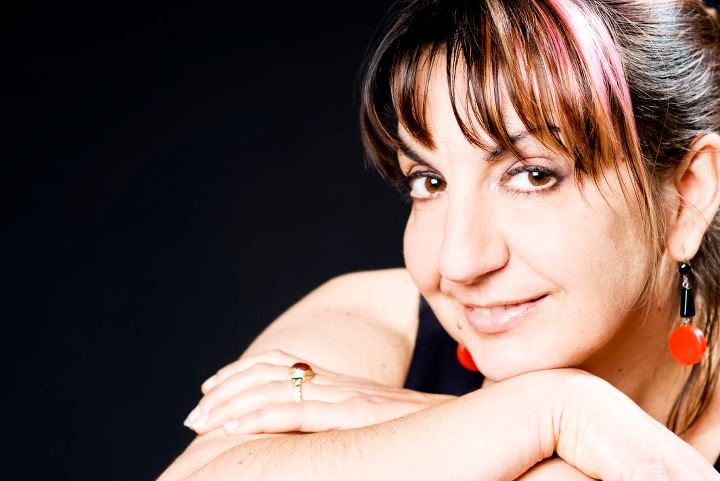 Carla Marcotulli was born in Rome, Italy in 1962, and studied flute at the Conservatory of Music in Frosinone. She also studied voice and sang with the conservatory's Big Band and performed as a soloist in the Gospel Choir.
She began her professional activities as a jazz singer in the early 1980s, performing with jazz artists such as Massimo Urbani, Larry Nocella, Danilo Rea, Roberto Gatto, Giovanni Tommaso, Nicola Stilo, and her sister, the pianist Rita Marcotulli.
In 1983 she performed beside Chet Baker at the "Four Roses Jazz Festival" in Rome, and was later invited by Carmen McRae to sing with her at a concert at the Music Inn.
In 1984 she was featured on Furio di Castri's album "Things", along with Rita Marcotulli, Enrico Rava, Flavio Boltro, Maurizio Giammarco, Aldo Romano, Maurizio Lazzaro and Roberto Gatto.
The label Fonit Cetra published an album under her name titled "Flying" in 1986. In 1987 Carla participated in Chet Baker's last recording: "Chet on Poetry". At this time she also began training classically, which would provide her with a wider range of musical expressivity. She collaborated with composers such as, Claudio Ambrosini, Nicola Piovani, and Giovanni Mancuso.
Carla received the diploma in Classical Singing and the diploma in Jazz from the "Benedetto Marcello" Conservatory of Venice.
In 1990 she joined the Keptorchestra directed by the Tonolo brothers.
Carla Marcotulli was invited to sing at the Umbria Jazz Winter in 1993 with Giovanni Tommaso's Quintet. She sang on the CD "Over the Ocean" by Giovanni Tommaso, which was awarded "Record of the year".
In 1994 she sang at Opera in New York, at the Kennedy Center in Washington DC, and in Puerto Rico.
Carla sang in Germany with the experimental trio "Neue Note" led by the pianist Klaus Treuheit in 1996 and 1997.
She has collaborated with the singer/composer Paolo Pietrangeli, participating in two of his CDs.
In 1999 Carla sang with Tommaso Vittorini's Orchestra and Big Band at the Eliseo theatre in Rome. In the same year she worked with the trumpeter Luca Bonvini on a project that included Cameron Brown, Vic Juris, and Elliot Zigmund. In 2001 she joined the composer and saxophonist Mario Raja and the writer Domenico Starnone in "Amori Imperfetti" which was presented at the Umbria Jazz Festival.
In 2006 Carla met the arranger and composer Dick Halligan, best known as the founding member of the group "Blood, Sweat & Tears". They worked together on Carla's ongoing project with a string quartet, until a new Jazz Quartet was born. On How Can I Get To Mars? (ACT 9720-2) Carla is interpreting songs by Dick Halligan and well-known standards.
Miona Deler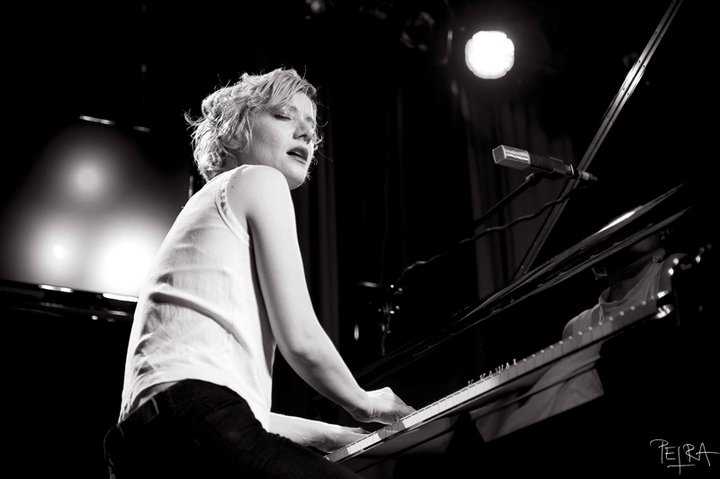 Miona Babić Deler is an Italian/Serbian classical pianist, composer and jazz/pop singer.
She is known mainly for her original repertoire where she frequently mixes classical piano pieces with her own arrangements of jazz, rock and traditional music.
She was born in Belgrade, former Yugoslavia, into an artistic family, where she started her career as a child theater actress and model.
After graduating from the music school "Mokranjac" in Belgrade with honors, she enrolled at the Faculty of Music, Belgrade (University of Music Arts), majoring in classical piano with maximum votes, obtaining the Master of Music degree.
Pursuing classical music studies she moved to Italy where she spent five years studying with Russian pianist Siavush Gadjiev at the Emil Komel music center in Gorizia, Italy. Though she started touring locally, her Western concert career was massively influenced by visa/citizenship issues for over a decade as she was unable to travel freely and have a wider professional schedule. Struck by circumstance, Miona Babić Deler started to write music for theater and video projects, in addition to music/lyrics for pop and jazz artists. A significant encounter with a renowned jazz and opera singer Carla Marcotulli, who convinced her of her own vocal abilities, led to one year jazz singing course in Conservatorio Giuseppe Tartini in Trieste, Italy, with Marcotulli as her vocal coach. It was her critically acclaimed play, staged in Teatro Miela in Trieste, that happened to be a career turning point. Versatile and adaptable, in addition to classical music, she has since toured and recorded extensively as singer/composer/arranger in many other genres as well. She has released two albums: "Reach Touch" (2012), a smooth jazz album in collaboration with an American composer and lyricist Art Bell and "No trumpet songs" (2008) with her original music and lyrics.
She has been equally active in improvisational music as a keyboardist of the Tristan Honsinger trio.
As a classical music piano soloist she has recorded for RAI (Schumann, Schubert), Serbian State Radio and TV (Beethoven, Schumann, Scriabin).
In addition to her musical career, Miona Deler occasionally appears as model and actress. She has also directed several videos.
Reviews
Classical music
It was the music of Alexander Scriabin to put in evidence all the qualities of this artist. The No. 2 op.19 Sonata-Fantasia was breathing in the proper sonority that the pianist modulates with taste and care, transmitting her intimate sensibility as well as interior unquietness that pushed her to search new expressive forms: In her piece "The Train", minimalism meets free improvisation and stage music."
Katja Kralj, Primorski Dnevnik, Italy
 The artist chose a repertoire entirely dedicated to Frédéric Chopin's work. A former Siavush Gadjiev's pupil gave a magnificent interpretation of two Mazurkas (No.2 E Minor and No.4 A Minor op.17, Scherzo C Sharp Minor, Nocturne B Major and Polonaise-Fantiasie op.61.). The pianist played with great intensity, underlining the most subtle nuances of this music. Her technical preparation permitted her a thoughtful and profound rendition of Chopin's pieces. It was both this highly personal rendition as well as an intense tempo that kept the vivid attention of the audience until the last note."
Rossana Pagliaga, Primorski Dnevnik, Italy
 "…The pianist seems to register here the premonition of death (Schubert, Sonata B flat Major D 960). Every phrase is spelt out in its elegiac tone. A sustained tempo amplifies an emphatic and desperate nostalgia. Underlining of secondary figures, unexpected accents and long silences, shades the whole discourse with dark desolation."
Il Piccolo, Italy
 Original music. Film.
"Miona Babić Deler's rhythmically and emotionally broken pieces and her vocal sensibility are comparable to great jazz singers and especially to alternative music divas such as Kate Bush, P. J. Harvey and Laurie Anderson."
Dnevnik, Serbia 2008
 "It was a great surprise to hear Miona Babić Deler on her last night solo concert in Dom Omladine, Belgrade. Performing her original music, inspired by both post punk as well as sort of "applied" blues, her songs still mainly stand on a rock basis. Following a Nick Cave tradition as well as new American music of the 80s, such as Tom Waits, her own poetic language is highly personal, sometimes even dramatic…"
Vojislav Pantić, Serbian State Radio, December 2012
 "The film "Surma Eyes" is a sort of autobiography of this extraordinary artist who has succeeded abroad. In spite of being a child of famous parents, she has managed to reject all and built an original, authentic style."
Goran Marković, film director, "Surma Eyes" Premiere