Trumpets
Dragoslav Stanisavljević "Fredi"• Marko Đorđević • Vladimir Krnetić • Nemanja Banović
Trombones
Nemanja Zlatarev • Kosta Vukašinović • Miloš Radonjić • Ivan Platner
Saxophones
Maksim Kočetov • Ljubiša Paunić • Kristijan Mlačak • Aleksandar Jaćimović • Tihomir Jakšić
Rhythm section
Ivan Aleksijević• Goran Potić • Milan Pavković • Miloš Grbatinić
Conductor
Ivan Ilić
Dusko Goykovich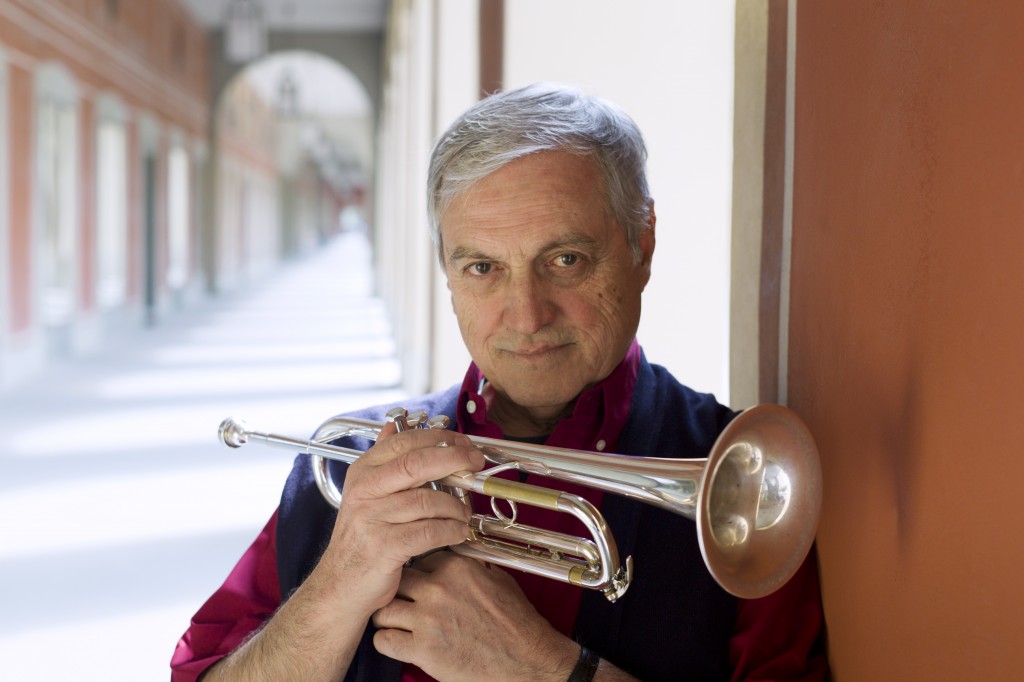 Dusko Goykovich, the most important jazz trumpet player in the ex-Yugoslav territory, a composer, arranger and bandleader.
  Born in 1931 in Jajce (Bosnia), in the Kingdom of Yugoslavia of that time, Dusko Goykovich studied at the Music Academy in Belgrade from 1948 to 1953. As a youth, he played with several jazz bands in Belgrade, and when, as an 18-year-old, he joined the Radio Belgrade Big Band, he was considered a talented young jazz soloist who could read music as well. Dusko went to Germany on 12th September 1955 with as little as $7 in his trumpet. Two days later, he was already playing his first jam session and soon became an integral part of German uprising young jazz scene.
  In 1956 he made his first record and performed at the famous Frankfurt Jazz Festival. In November the same year, at a concert in the jazz club Studio 15, where Goykovich had been playing for a while, he had an encounter with the legendary Miles Davis, which had a symbolic character for the mentalities of both musicians. After a concert in the German Museum, where the "Modern Jazz Quartet" also had an appearance, a small miracle happened. Goykovich was playing a solo on the jazz club's stage, when Miles Davis appeared at the club's door. Not only did he come to the club after the concert, which was unusual for him, but he went onto the stage together with Percy Heath, his bass player, although Miles was well-known never to play sessions. Goykovich recalls the anecdote saying: "I was ecstatic, I wanted to sit down and listen, but, he invited me to play. I still cannot describe my euphoria, what it meant to me to share the stage with this superstar." Moreover, Davis invited Goykovich to join him at his table and struck up a conversation. Miles asked Dusko when he was going to come to New York, and Dusko replied that he saw no point in coming to the city with five thousand trumpet players, him being just a lad from the Balkans, and that he didn't know anyone there. Miles produced a piece of paper from his pocket, wrote down his phone number that only a few people had, and gave it to Dusko with a comment: "Now you know me. That's enough for starters."
  After a year with the big band of Munich's Max Greger, where he was practically the only jazz musician, Dusko accepted an offer to join the leading European jazz orchestra of Kurt Edelhagen. Together with Goykovich, another musician from Belgrade joined Edelhagen's orchestra – Mile Pavlović, taking the position of the lead trumpet. Rob Pronk, Francy Boland and Jimmy Deuchar were among the arrangers, and the repertoire was based on the real jazz atmosphere. Edelhagen presented Goykovich as a soloist whenever there was an opportunity, and offered him a chance to present himself to the wider public, mostly because of his perfect technique. During the four years he spent with the Edelhagen's orchestra, there were several important record releases, and a number of eminent soloist appeared with the band.
  As soon as 1958, Dusko Goykovich was selected for the Newport International Jazz Band. Newport had a magical ring to it; it was an opportunity to go to the place which was the world centre of jazz each year, and a dream, which Dusko had been dreaming for years, come true – his first introduction into the cradle of jazz, America. The period between 1958 and 1961 was the time of great Goykovich's popularity in Germany. He was a multiple winner of the National Critics' Award for his instrument. A series of performances and recordings with a number of important bands and names of that time followed.
  The first record under Goykovich's name "The Dusko Goykovich International Jazz Octet" was recorded on 14th February 1961 and was released for Yugoslavia of that time, under the Radio Television Belgrade label. The core of what was later to become the Clarke/Boland Big Band was there at the studio date – the famous Francy Boland and Kenny Clarke. Soon after this recording, new material was recorded with a similar formation, and an album was later released compiled of the material from these two studio dates entitled "Golden Eight" and "Blue Note".
  Goykovich's love of big band, whose sound he was introduced to back at the time when he had been playing with the Radio Belgrade Orchestra, and which was later honed with Edelhagen, primarily meant an encouragement for him to expand his knowledge, and start writing arrangements and composing his original music.
  In September 1961 Dusko was informed that he was admitted to the best jazz school in the world – Berklee. Not only that he was admitted but that he had received a Dave Brubeck's scholarship for studying there. Immediately upon his arrival at Berklee, due to his experience and previous knowledge, he was directed to a "fast class" for composition and arrangement. With a number of great teachers, especially the great arranger Herb Pomeroy, he learned how to write big band arrangements and harmonise all the instruments. It was of a particular benefit for Goykovich's education to have a trumpeter of great, powerful tone such as Jack Weaver looking after the brass players at the College.
  Well-aware of the fact that he had to use the short time his scholarship would provide for to his best advantage, Goykovich was absolutely focused on his studies and did not miss out any of the classes given by his teachers and professors, who were true masters of their art. The curriculum included the tiniest details of composition, big band arrangement, film music writing. The importance Goykovich put on his education is reflected in the fact that, due to his decision to make the most of his scholarship, during his studies he turned down the offers by Count Basie, Stan Kenton and the great Duke Ellington to join their orchestras. It was certainly not an easy thing to do, but he had promised himself that he would accept the first offer that came along after his studies.
  Upon graduation, while he was getting ready to return to Germany, Dusko received an invitation from Canadian trumpet player and bandleader Maynard Ferguson, who offered him to take the place of Rolf Ericson, who had just left to join Ellington. Of course, Dusko accepted Ferguson's offer and followed him as the second trumpet soloist. This allowed him to materialise his desire to apply the theoretical knowledge he had received at school to the American jazz. He returned to the Newport Jazz Festival with Ferguson's band in 1963. The magazine "Jazz Stage" wrote that the trumpet duel between Ferguson and Goykovich in the composition "Fox Hunt" was extraordinary, that Goykovich had turned into a real trumpet master after the studies, and that his German friends were in for a great surprise when they heard him again. Ferguson's band eventually fell apart in 1964, and there are two LP albums from this phase: "Come Blow Your Horn" and "The New Sound of Maynard Ferguson", both under the Cameo label.
  In the summer of the same year, Dusko joined Woody Herman's orchestra, and the next morning he was on the bus taking the band to Nevada. The first week with Herman's band – more precisely 9th September 1964 – yielded the amazing recordings of "The Swinging Herman Herd Recorded Live" and "Woody's Bigband Goodies," both for Philips. These albums are an important document about this remarkably successful cooperation. Supported and encouraged by Herman, Goykovich wrote the number "Woody's Whistle," as well as the arrangement for Benny Golson's "I Remember Clifford." Herman not only encouraged Goykovich to write and compose, but, more importantly, included his works in his repertoire, and recorded them. Goykovich's pieces remained on the repertoire of Herman's band even after Dusko left the orchestra. Later Goykovich, as a member of Herman's band, went back to the Newport Festival and appeared at the Montreaux Festival as well. Besides this, he took part in the recording of the albums "My Kind Of Broadway", "Woody's Winners" and "Woody Live East and Wess," all for Collumbia Records, as well as "Basin Street West" and "Live in Antibes". With Herman's orchestra, Goykovich went on a tour, organised by the American State Department, to African countries and part of Eastern Europe for over three months. 10 years later, Goykovich visited Belgrade in 1965, as part of this tour.
  In the four years he spent on the American jazz scene, Goykovich definitely experienced more than most of his European colleagues in their entire careers. During his Boston years, he had played his first combo with Tony Williamson, Sadao Watanabe and John Neves. During his stay in New York, in the numerous clubs of this city, he met the stars: Art Farmer, Jusef Lateef, Zoot Sims, and Slide Hampton, with whom Goykovich developed a friendship that was more than musical. A session with Clark Terry when they both played the flugelhorn stayed particularly vivid in Dusko's memory. The influence of and help from Clark Terry, who he played with in New York, are as important as those of Miles and Gillespie. Dusko had met Dizzy Gillespie in the late 1950s in Frankfurt, and he had an answer to any of Dusko's questions. As Goykovich recalls: "I could call him in the middle of the night, wake him up, and he was always ready to explain whatever you were having troubles with."
  Wanting to record his own music, Dusko returned to Europe together with Sal Nistico in the summer of 1965. His first band was called the International Jazz Quintet, which featured, besides Sal and Dusko, George Grunz, Jimmy Woode and Klaus Weiss. An undoubted milestone in his career was the recording for the album "Swinging Macedonia," in August 1966 in Koln, under the Philips label and partnered by the jet-set magazine "Twen." It was an opportunity for Goykovich to put to life the idea of "The Balkan Jazz" that he had been considering for years. The pianist Mal Waldron, Nathan Davis on tenor sax, Eddie Busnello on alto sax, drummer Cees See, and the bass player Peter Trunk, created an Afro-American-European amalgam of jazz that opened the door to new cultural worlds and horizons.
  What follows is a number of small ensembles led by Goykovich, a participation in the world premiere of the jazz opera "The Visitation" by Gunther Schuller in April 1967 at the state opera in Hamburg. Schuller placed a small jazz ensemble opposite the Symphony Orchestra. The opera was staged in the Metropolitan Opera in New York in July 1967, where Dusko played the trumpet once again. In the years that followed, Goykovich's activities spread all over Europe. He was a welcome guest at all festivals, in clubs, and he often played with radio orchestras. One of the important moments was his appearance at the Zurich Jazz Festival with "The International Festival All Star Big Band" that was recorded live. The Big Band was led by George Gruntz, and included, besides Dusko, Art Farmer, Benny Bailey, Franco Ambrosetti, Slide Hampton, Jiggs Whigham, Ake Persson, Albert Mangelsdorff, Leo Wright, Heinz Bigler, Herb Geller, Dexter Gordon, Don Byas, Sahib Shihab, Isla Eckinger, and Tony Inzalaco. Parallel to these activities, he kept active the Dusko Goykovich Quintet, which was a very lively, well-accepted and high quality ensemble.
  The ideal soil for growing into life his dreams of jazz as such, especially those related to big band music, Goykovich found in the Clarke-Boland Big Band. It was the only orchestra of that size that was managing to survive in Europe without state funding. It gathered the most famous among the world's soloist of the contemporary jazz of that time: Benny Bailey as the first trumpet, Idrees Sulieman, Derek Watkins, Tony Fisher, Jimmy Deuchar, Art Farmer, Kenny Wheeler, Dusko Goykovich and Mile Pavlović, Ake Persson, Nat Peck, Erik Van Lier, Johnny Griffin, Ronnie Scott, Tony Coe, Sahib Shihab, Derek Humble, John Surman, Fats Sadi, Jimmy Woode, and later Ronnie Mathewson, Kenny Clare as the second drummer, and, of course, Kenny Clarke and Francy Boland. They were occasionally reinforced by Phil Woods and great Stan Getz. The list of the soloists was also impressive: Dizzy Gillespie and Carmen McRae, who sang and recorded Dusko's composition "A handful of Soul." Goykovich was a member of this all star ensemble for more than five years and he considers this period of his career as one of his musical peaks. This orchestra's priceless legacy includes long tours the band took throughout Europe, the immaculate reviews they received, sometimes being compared to the most influential big bands, and 11 albums that Dusko's trumpet can be heard on.
  Upon his return from America, Goykovich lived in Koln, where he ran "Dusko's Jazz Studio" until the New Year's Eve of 1968. Radio Koln came regularly to the studio every month to record live music, because the walls were sound proof providing studio-like conditions. This club in Achener Strasse in Koln made an undoubted contribution to the development of jazz and bebop in the wider Rhine area, changing this city's prominence as a vital jazz metropolis in just a few months.
  It was time for Munich. Both jazz and Munich were deeply associated with the club Domicil, which was generally considered the best club in Europe. Domicil was dominated by electrifying atmosphere, full of creative tension and spirit that Dusko grew to like and respect back in his New York days. Naturally, Dusko Goykovich (together with numerous other similarly inclined musicians) was one of the pillars of this club that, in the 15 years of its operation, offered unforgettable concerts and set the foundations for the legendary jazz scene of Munich. Among the club's guests were: Freddie Hubbard with his Sextet, Johnny Griffin, Kenny Drew, The Thad Jones/Mel Lewis Big Band with Dee Dee Bridgewater, Jon Hendricks, Tete Mantoliu, who soon became the house pianist. Moreover, it is worth mentioning the Peter Herbolzheimer Rhythm Combination & Brass, who recorded their debut LP album in Domicil, featuring Goykovich as a soloist.
  Dusko Goykovich, Don Mezz and Olaf Kubler used all their power and greatness to come to the Bavarian metropolis on the Isar River in order to revive its scene. Benny Bailey, Jimmy Woode, Mal Waldron, Bobby Jones, Charly Antolini, Rick Kiefer, Al Porcino, Rick Keller, Rick Hollander are just some of the names who took part in the creation of the Munich jazz scene. This unique and explosive bland spawned a number of important projects Dusko Goykovich participated in.
  Even when dark days of jazz music came, in the moment when, as Domicil's owner Ernst Kiefer says – 'jazz started turning into a bloodless art form', he was remembered to have said that 'Dusko Goykovich has never strayed from his path.'
  From the late 60s, Goykovich was a frequent guest in former Yugoslavia, playing with both small ensembles and as a guest soloist with radio big bands in Belgrade, Zagreb, Ljubljana, Sarajevo, Novi Sad. An exemplary result of his collaboration with musicians from former Yugoslavia was the group 'Trumpets and Rhythm Unit.' Besides Lala Kovačev, who co-founded the band that Dusko wrote all arrangements for, the members were Stjepko Gut, Ladislav Fidri, Petar Ugrin, occasionally Goce Dimitrovski, Nikola Mimo Mitrović, Krešimir Remeta, and Borislav Bora Roković, who had also enjoyed a long and successful career in Germany.
  The greatest present to the Munich jazz by Goykovich was 'The Munich Big Band.' Naturally, formation of his own big band had never left Dusko's mind ever since he left the Woody Herman's orchestra. It all started at the bar of Domicil where Goykovich discussed with his fellow musicians how good it would have been to have a 'rehearsal' band. The Sunday rehearsals in Domicil were soon so popular that more musicians came that was needed. Dusko grabbed the opportunity and made his first jazz big band. As they were based in Munich, the core of the band consisted of the musicians who lived there: Olaf Kubler, Isla Eckinger, Joe Nay, Charly Antolini… Artists from other places frequently joined in: Ack van Rooyen, Berry Ross, Rick Kiefer, Peter Herbolzheimer… and in January 1970, Rick Kiffer suggested a debut concert of this young band in Domicil. Goykovich, of course, accepted the suggestion.
  The majority of the arrangements were written by Goykovich, but Peter Herbolzheimer helped creating the repertoire, as well as Slide Hampton, who was a frequent guest soloist. The band was ultimately named 'The Munich Big Band' for the tour of Eastern Europe organized by the Goethe Institute in 1971. The band stayed active together until 1976, when Goykovich started focusing on his own career. In the last 10 years, Goykovich's 'The Munich Big Band' occasionally appears at the Munich club 'Unterfahrt.'
  The Bavarian Youth Big Band was Goykovich's second orchestral base, so he considered taking it over as both an honour and a duty. He took the band over at the suggestion of Richard Weidemann in 1987. Goykovich found the work with young people rewarding, seeing them grow from enthusiasts into genuine musicians as he was following their successful lives. And not only that. Clark Terry helped Dusko very much during his first years in America. He once asked Clark how to return this favour. The great Clark just said: 'Just pass the torch.' The carrying and passing the torch has been one of the missions of Dusko Goykovich's career. Led by Dusko, The Bavarian Youth Big Band had over 40 notable appearances, released a CD, and in 1993 Goykovich passed the leadership onto his friend, colleague and orchestra member, Harold Rushenbaum.
  Since the mid-90s, Goykovich has had 11 successful and notable tours in Japan, with different formations and a number of Japanese musicians. The discography of albums recorded in Japan is quite extensive considering the fact that he made at least one CD during each tour.
  Among the numerous albums and the rich discography comprising over 150 albums, more than 30 of which were released under Goykovich's name, it is worth mentioning primarily:
– 'The Balkan Blues' was recorded in Hanover in 1993 with the 35-member NDR Orchestra (without the strings) and a jazz quartet that, besides Goykovich, consisted of Bora Roković, František Ulir and Bruno Kasteluči. It was released under the Enja Records label and has reached the cult status. This piece premiered in the late 1970s as 'The Sketches of Yugoslavia,' but due to the fact that Yugoslavia ceased existing, the suite's name was changed;
– A year later, Goykovich made an LP/CD 'Soul Connection' in New York, with the absolute crème de la crème of New York's jazz, which was released for Enja Records. The album features, besides Dusko, Jimmy Heath, Tommy Flanegan, Eddie Gomez and Mickey Roker. The album was released to a great critical acclaim, it was awarded the German Discography Prize and reached sales figures that were high for a jazz album.
– The 'Be Bop City' followed as soon as 1994, which was also recorded in New York with Ralph Moore, Abraham Burton, Kenny Barron, Ray Drummond and Alvin Queen, who had been Goykovich's associate and friend for years.
– The next came Goykovich's albums 'Balkan Connection,' 'Balkan Blue' – CD 1, featuring one of Italy's most important jazz musicians Gianni Basso, who has shared Dusko's views of music for years, followed by "In My Dreams", "Rivers Of Happines" – feat. Dusko Goykovich, "Samba Do Mar", "Samba Tzigane", "A Handfull O' Soul" with an international all star big band, "Five Horns And Rhythm," all for Enja Records, and 'Balkan Project' that was released only for the Serbian market, with the Soul Connection Big Band, presenting Goykovich's Balkan jazz compositions arranged for Big Band.
– The album 'Brandenburg Concert Dusko With Strings' with the strings of the Brandenburg Symphony Orchestra featuring Dusko's compositions arranged by Peter King for a string orchestra and jazz quintet was released in 2013, and a year later, Serbia saw the release of the album 'Latin Haze' recorded with the RTS Big Band – this album was released in 2015 by Enja Records, with a special release for the Japanese market. The album presents a collection of Goykovich's Latin-Jazz style compositions. This was Goykovich's first album with the RTS Big Band, and it gave a strong message of the high level of this generation of the orchestra that he had started his career in.
  Goykovich received the 'ECHO JAZZ AWARD' for his life opus in 2014 in Hamburg, and a year later Goykovich was given the music award of the City of Munich, where he lives, which is awarded every three years as a token of appreciation to musicians or institutions of great importance for the City of Munich.
It is not exaggerated to say that Dusko Goykovich is an artist who has, by his lifestyle and great musical opus, perpetuated the essence of an art which, in his case, has always been supranational.
The RTS Big Band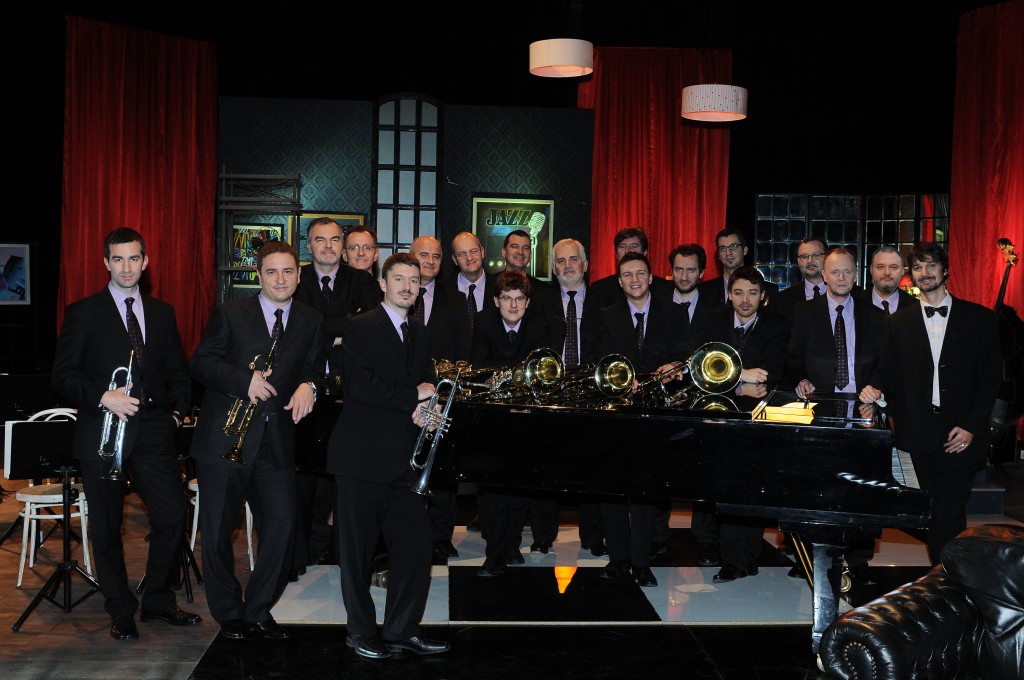 The RTS Big Band was founded in 1948 under the name The Radio Belgrade Entertainment Orchestra, only to start functioning as a big band after the string section separated from it.
  For a number of years, the orchestra has been led by eminent conductors, composers and arrangers: Mladen Bobi Guteša, Vojislav Bubiša Simić, Zvonimir Skerl, Milivoje Mića Marković, Dusko Goykovich and Stjepko Gut.
  The orchestra has received a number of awards and recognitions for its work and creative achievements.
  At the Juan-les-Pins Jazz Festival in 1960, our ensemble was awarded first prize. After its first tour in 1957, the Big Band appeared at well-known international festivals (Tel Aviv, Montreaux, Marseille, Thessaloniki, Munich), several UNICEF concerts (Belgrade, Paris, Geneva), always with remarkable success and to a great critical acclaim.
  Over the years, the orchestra appeared with the greatest international jazz names as guests, such as: Clark Terry, Benny Golson, Johnny Griffin, Maynard Ferguson, Tony Scott, Jerome Richardson, Ernie Wilkins, Alvin Queen, Reggie Johnson, Eddie Henderson, Hank Mobley, Jon Hendricks, Roy Hargrove, Brad Leali, Diana Schuur, Don Menza, Steve Turre, Ronnie Cuber, Randy Brecker, Jon Faddis, Chuck Findley… as well as the stars of the world show business such as: Ray Charles, Denny Kaye, Josephine Baker, Mirelle Mathieu, Enrico Macias, Frida Lyngstad (ABBA), etc.
The extensive discography includes the studio albums:
"The Belgrade Radio Big Band 1948-1978", "Muzika moje mladosti", Stjepko Gut & RTS Big Band "Afro Balkanske skice", "Willi Johanns and Radio Belgrade Big Band", "The Radio Belgrade Big Band – 75 years of Radio Belgrade", "Caravan", "It's Time for Jazz", "Sweet Love" , Dusko Goykovich & The RTS Big Band "Latin Haze", The RTS Big Band "Balkan Soul".
  The orchestra has spawned a pleiad of first-class soloist of the world-renown (Mile Pavlović, Bora Roković, Dusko Goykovich, Lala Kovačev, Stjepko Gut).
The RTS Big Band is conducted by Ivan Ilić.