Maria João, voice
Mário Laginha, piano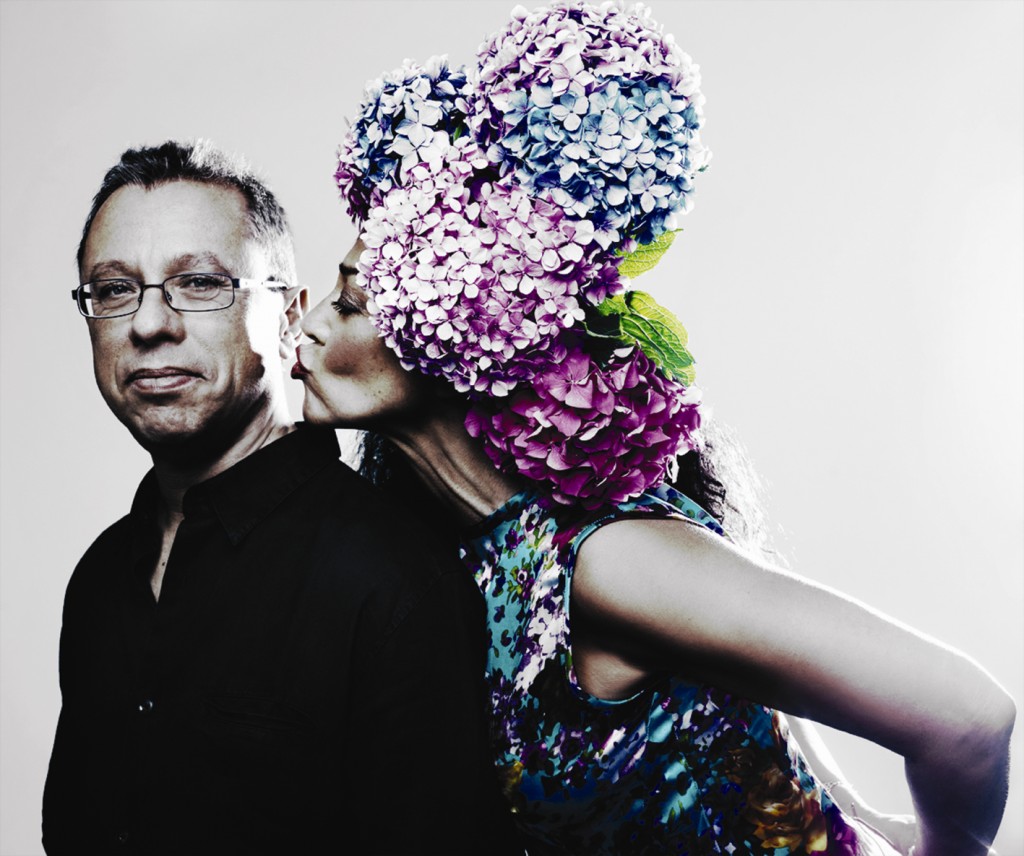 Maria João & Mário Laginha started working together 25 years ago, and since then they engage in a unique musical involvement, performing hundreds of concerts in Portugal and abroad. Together they already presented several records of excellent quality: "Danças"; "Fábula"; "Cor"; "Lobos, Raposas e Coiotes"; "Chorinho Feliz"; "Mumadji"; "Undercovers"; "Tralha"; "Chocolate" – a commemoration of the 25th years of their first work together, and now their brand new "Iridescente".
"Iridescente", released in November 2012, shows, once again, the Duo's enormous talent and creativity. Born of an invitation from the Gulbenkian Foundation to make part of the series 'Songs of the World', the music of "Iridescente" was created purposely for an unusual setting of voice, piano, accordion, harp and percussion. Maria João wrote all the lyrics and, for the first time, extended her creative capacity to composition – she's the author of the theme "Iridescente", – all the other themes and arrangements are from Mário Laginha.
Their breakthrough capacity transforms each record and every concert in a moment of creativity and emotion. The music that they produce is, first of all, the music that they like and want to do. When we hear it, we can identify the originality and the cultural influences of the countries where they have being playing.
Maria João
  Portugal's Grande Dame of Vocal Acrobacy
It s difficult to find a category for the singer Maria João as with each of her projects she enters new artistic territories. Avantgarde, modern jazz, Latinamerican music, Portuguese folklore – Maria João plays with the most different genres and embraces them through her personal style of interpretation. She presents her songs as mini dramas full of grace and explosive passion, accompanied by dramatic body language, gestures and dancing steps. The infinite range of her voice oscillates between all colours and intensities, jubilating and whispering in fascinating poignancy.
Maria João has participated in the most prestigious European and World Jazz Festivals. Her career started at Lisbon's Hot Club Jazz School, in 1982. One year later, she formed a quintet with Mário Laginha, Carlos Martins, António Ferro and Carlos Vieira. Together they recorded two albums – "Quinteto de Maria João" (1983) and "Cem Caminhos" (1985). At the time, she was already considered a true revelation in the jazz universe, having received several awards, namely from the San Sebastian Jazz Festival (Spain). In 1986, in one concert while touring Germany, Maria João had a special person in the audience: Japanese free-jazz pianist Aki Takase, who invited her to begin a duo project. From 1987 to 1990, singer and pianist astounded the audiences of Jazz Festivals all over Europe that surrendered to the freedom and irreverence of their music. In 1991, Maria João became involved in a new project with Portuguese group Cal Viva. This project marks her reunion with Mário Laginha. With the record "Sol", a fusion of Portuguese traditional music with the sounds of jazz, they toured intensely all over Portugal.
The regularity of her work with Laginha and the musical complicity established between the two incited them to put together a new personal acoustic project. This is how the record "Danças" was born (1993), the beginning of a duo that persists until today. Besides her regular work with Mário Laginha, which has given them the possibility to work with very prestigious artists, Maria João has also worked with big names in Portugal (António Pinho Vargas, Carlos Bica) and abroad (Gilberto Gil, Joe Zawinul, Laureen Newton, Bob Stenson, Christof Lauer, Saxofour, Miroslav Vitous, David Friedman, Charlie Mariano, Aki Takase, Niels Henning Orsted Pederson, Hannover Philarmonic Orchestra, among many others).
In 2007, she released "João" a solo album including 14 songs from traditional Brazilian Songbook.
"Follow the songlines", featuring Maria João, Mário Laginha, David Linx and Diedrick Wissels and the Orquestra Nacional do Porto was released in 2008 and was awarded the Victoire du Jazz award for artist or vocal formation. Still this year, Maria João and Mário Laginha were invited by the Frankfurt Radio Big Band to a series of concerts throughout Europe. In 2010, the duo recorded a CD with the big band.
In 2009, Maria João started a new project – "Ogre", with jazz, pop and electronic sonorities. "Ogre" released its first CD, "Electrodoméstico" in 2012.
In March 2011, Maria João released "Blackberry and Raspberry" with the Portuguese big band OJM. An album that features a series of historical North American standards such as "Skylark", "Spring can really hang you up the most". Besides these songs, the CD also brings fresh interpretations for themes that belong to Maria João´s inspiring and long career alongside the pianist Mário Laginha such as "Flor", "Torrente", representative Brazilian music themes, among others. Still in 2011, Maria João and David Linx, together with the Brussels Jazz Orchestra, record "A Different Porgy, Another Bess", released in 2012.
OGRE is Maria João's latest adventure – a hybrid of jazz and electronic music. An unusual instrumental line-up and an outside-the-box approach takes audiences on a trip through a world of sounds, criss-crossing the borders between digital and analogue.
Discography
Plástico, Maria João OGRE (2015); Iridescente, Maria Joao & Mário Laginha (2012); Electrodomestico, Maria Joao OGRE (2012); Amoras e Framboesas (2011); Follow the Songlines, Maria João & David Linx & Mario Laginha (2010); Chocolate, Maria João & Mario Laginha (2008); João (2007); Tralha, Maria João & Mario Laginha (2004); Undercovers (2002); Mumadj (2001); Chorinho Feliz, Maria João & Mario Laginha (2000); Lobos, Raposas e Coiotes, Maria João & Mario Laginha (1999); Cor, Maria João & Mario Laginha (1998); Fábula (1996); Danças, Maria João & Mario Laginha (1994); Sol (1992); Alice (1992); Looking For Love, Maria João & Aki Takase (1989); Conversa (1986); Cem Caminhos (1985); Quinteto de Maria João (1983).
 Press Reviews
The electrifying stage presence of Maria Joao fascinated the audience from the first to the last minute. The phenomenous range of her voice from very deep to very high and her overwhelming improvisational skill make the big difference. She switches from the oriental sound of an arab singer to the voice of an old Candomblé priest – a simply breathtaking performance.
Rolling Stone Brasil, 2012
Vocal acrobat Maria Joao transported her audience to a fantasy world. Sparkling with ideas, she sang lively like a child, sensually like a woman, deeply like a man, continuously changed her roles, conducted imaginary dialogues using her eyes, arms and the whole body. Charming, profound and marvelously funny.
Göttinger Tagblatt Magazin, 2012
The great consolation of this experience for me was the beauty of Joao's voice. Her range is extraordinary, in terms of both dynamics and tone, and her improvisational exuberance promises to break all conceivable boundaries, of musical genre, identity and perhaps even the known laws of the physical universe.
Tromsoby, N, 2012
Who knows if this performance by Maria João's OGRE trio wasn't the pièce de résistance of this year's Katowice JazzArt Festival. (…) The divine Maria João knocked out the audience of the festival.
http://artrock.pl , PL, April 2014
 Splendid, very expressive, rejoicing and almost cracking her notes she led an enthusiastic audience into unexplored areas, creating a universe of fascinating and brilliant sound sceneries.
Mittelbayrische Zeitung, D, 2014
João, often referred to as the female counterpart to Bobby McFerrin, is above all one thing: herself. Her voice is too unique and unmistakeable as it screws itself from dark depths to unexpected heights, squeaking, whispering, vibrating and bewitching.
Neues Volksblatt, A, 2014
The most beautiful and intimate moments are created by the duo of João and Laginha. And it is absolute world-class quality when a very high tone in a hardly audible pianissimo finishes one of those songs. Stormy applause in the sold out house.
Oberösterreichische Nachrichten, A, 2014
To describe João merely as "flaming" would be far too flat. She glides on her octave spectrum to and fro between a voodoo-priest, an aged Bjork and the vocal outbreaks of Kate Bush during the seventies. Conclusion: All-out art or simply João at her best.
Roland Holzwarth, A, August 2014
Music, according to Maria João's and Mário Laginha's explanation, should shimmer as brilliantly as a rainbow.
Deutsche Welle, D, 2013
Electrifying, unexpected, magical
Göttinger Tagblatt, D, 2012
Different? Indeed. Distinctive? Absolutely. "A Different Porgy and Bess" featuring vocalists David Linx and Maria Joao with the Brussels Jazz Orchestra delivers a performance of taste, elegance and magnificence. (…) Award-winning vocalists Linx and Joao share a common performance thread here as their respective interpretations are simply superb – theatrically emotional and dramatic, yet swinging. Their depth of emotion and lyric interplay startles. The tandem marvellously works their way through the eleven songs (each arranged by a different arranger) with energy. Nothing is held back or rendered intimidated by the nature or historical gravitas of the content.
Nick Mondello, JazzTimes, UK, May 2012
The theatricality of her performance, however contrived, sits well with a use of voice which is somewhere between impersonation and a mock spiritual 'speaking in tongues', in light of the venue, an experience verging on the surreal!
Tromsoby, N, 2012
 There is material that can be so powerful that even the best (or worst) interpretation cannot cope with it. And there are musicians who are so strong that the result always sounds more like them than like the original. (…) Thus Maria Joãos "Take Five" awoke the European vocal jazz – a declaration of independence for a new form of jazz singing.
NDR, Henry Altmann, Dirty Dozen: Maria João, D, Mach 2011
Web: www.mariajoao.org
www.facebook.com/mariajoaomgrancha ; www.facebook.com/mariajoao.ogre
Youtube: www.youtube.com/user/CultureWorksVienna
Mário Laginha
  On the album "Songs and Fugues" (2006), Mário Laginha shows how it is possible to establish a bridge between jazz and classical music: he uses, with virtuosity, classical techniques to compose six fugues, each one preceded by a song in the same key, following the scheme of preludes and fugues of Bach. His compositions have an inspiring contemporary sound, although complex.
For Mário Laginha, making music is essentially an act of sharing, and he has done so with strong musical personalities. His duet with Maria Joao has resulted in one of the most consistent and original projects of modern Portuguese music. Together, they have recorded eleven albums. Once again, here jazz acts as a foundation: there are influences ranging from: African, Brazilian, Indian, pop, rock, classical, and traditional Portuguese music. The duet has participated in some of the most important jazz festivals in the world: Montreux Jazz Festival, North Sea Jazz Festival, San Sebastian Jazz Festival and the Montreal Jazz Festival.
Since the 80´s, he has played, also in duet, with classical pianist Pedro Burmester. Laginha takes his jazz roots and infuses them in a repertoire for the 20th century with: Maurice Ravel, Samuel Barber, Aaron Copland.
Laginha created the Mário Laginha Trio, with Bernardo Moreira on double bass, and drummer Alexandre Frazão. This formation is probably the closest to jazz, albeit with an unconventional style. Mario Laginha Trio recorded "Espaço" (2008) a kind of bridge between music and architecture and recently with "Mongrel" (2010), Mario brought Chopin to his musical universe.
Although he concluded his piano course at the National Conservatory with a perfect score, this did not hinder or solidify him as just a classical pianist. This gave him the tools to evolve as a composer and pianist in his own right, with his own personality and sound. This is what has allowed him to compose for such diverse formations as: The Hamburg Radio Band, The Lisbon Metropolitan Orchestra, The Hannover Philharmonic Orchestra, The Remix Ensemble, The Drumming Percussion Group, and the Oporto National Orchestra. He has also contributed with compositions for theatre and cinema.
With great creativity, enormous rhythmic solidity, and a vast harmonic and melodic trait, Mário Laginha has worked alongside exceptional musicians, onstage and in studio with the likes of: Wayne Shorter, Wolfgang Muthspiel, Trilok Gurtu, Gilberto Gil, Lenine, Armando Marçal, Toninho Ferraguti, Nico Assumpção, Ralph Towner, Manu Katché, Dino Saluzzi, Kai Eckhardt, Julian Argϋelles, Steve Argϋelles, Howard Johnson, and Django Bates.
Working as a musician for more than twenty years, Mário Laginha is usually connoted to the jazz world. But, if it's true that in the beginning he followed a predominantly jazzy path – he was one of the founders of the Sexteto de Jazz de Lisboa (1984), he created the Mário Laginha Decateto (1987) and he leads his own trio, – the musical universe he has constructed with singer Maria João is a tribute to all the music he loves – beginning with jazz, but including Brazilian, Indian and African music, pop, rock and, of course, the classical basis that was present in his academic studies and that would influence his first solo project, inspired by Bach's music (Songs and Fugues, 2006).
Mário Laginha has articulated his strong musical personality with a strong will to share his art with other musicians and creators. Firstly, with Maria João, which resulted as one of the most consistent and original projects on the Portuguese music scene. Secondly, at the end of the 80's, with classical pianist Pedro Burmester, with whom we would record a CD  – a duo enlarged to a trio with Bernardo Sassetti, in 2007, for the project "3 Pianos", with a CD and a DVD recorded, besides a dozen of concerts strongly acclaimed by the audiences and the critic. Till his unexpected disappearance, Bernardo Sassetti was one of Mário Laginha's musical partners and accomplices, with many dozens of concerts and two CD recorded, the latter of which dedicated to José Afonso's music.
His most recent works are "Mongrel", in trio with Bernardo Moreira and Alexandre Frazão, in which Laginha took original themes by Chopin and transformed them in his own language, and "Iridescente", with Maria João, recorded at the Fundação Calouste Gulbenkian. By the end of 2013, Mário Laginha and his Novo Trio (New Trio), with guitarist Miguel Amaral and double bassist Bernardo Moreira, released a new record breaking new paths for jazz and Portuguese music.