Taking part
Vojislav Bubiša Simić, musician, conductor, Serbian jazz music pioneer
Mihajlo Kelbli and Ljiljana Petrović

Vitomir Simurdić, music critic and publicist
ALEKSANDAR BAHUN TRIO
Aleksandar Bahun, piano • Branko Marković, double bass • Dušan Ivanišević, drums
Josip Lorbek Pepi 1933-2010

  Drago Lorbek, a military band master married Mary Polemis from England, who was the headmaster of the War Orphans Home in Vranje, in 1932. A year later, Lorbek was transferred to Vršac where he got the post of the Military Music School teacher. Their only son Josip-Pepi was born on 14th September in Vršac. In 1936, Drago was back to the position of a military band master, but this time in Croatian Karlovac, the seat of one of the major Yugoslav Army garrisons of that time.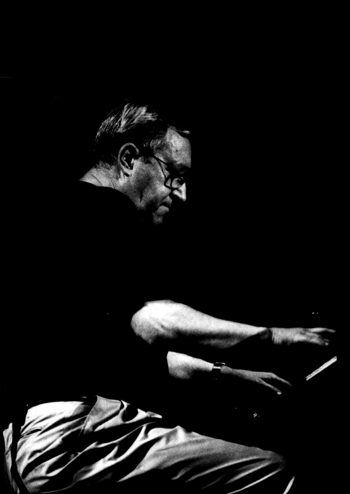 Josip lived surrounded with care and love of his parents and grandmother Margaret, a strict English lady who spoke only English with him. His mother and grandmother communicated in Greek when they want to hide something or to say something that they didn't want their son/grandson to understand.
He started elementary school in Karlovac, as well as learning the piano, desiring to switch to the trumpet or clarinet one day, because he was often present at rehearsals and military brass music concerts. The war is approaching, and with its arrival many musicians Josip used to know and who loved him disappeared in the aftermath. One day his father left too, and his mother and grandmother moved to Zagreb to stay with friends. After a certain time and problems they had as foreigners, they managed to emigrate from the Independent State of Croatia to Slovenia-Maribor, where they reunited with his father Drago. He had rented a flat in Maribor and got a job. Later they learned that, as a Yugoslav Army officer, he had had to evade German imprisonment by hiding in Slovenian villages staying with friends and family, until the situation calmed down. Pepi continued his elementary school and music education – piano in Maribor, but this time in German. They lived hard but in relative peace almost until the end of 1942, when Drago joined the Partisan movement where he, with his best friend Bojan Adamič, established the first army brass band within the Headquarters. They were later attached to larger units in order to spread cultural programme in the liberated parts of Slovenia.
After the war, Drago was demobilised with the rank of a lieutenant colonel, and started working in the high music school in Maribor. This allowed him to dedicate more time to his son Josip's growing-up and education, music included.
Soon, the first troubles appeared in the Lorbek family, which culminated in a divorce in 1948, and Mary moved with her mother and son Pepi to Novi Sad to stay with her sister Irene Marinković, who lived in Katolička porta (The Catholic Church Backyard). Pepi started going to the First Mixed Grammar School (today's Zmaj Jovina High School) and high music school, where his wish to play the trumpet finally came true. Mary started working at the Institute of Agriculture, and as a private English language tutor to many prominent citizens of Novi Sad and people active in the political life of that time. His grandmother Margaret died in 1953 and was buried at the Uspensko Cemetery. Her wish was fulfilled to have only a stone cross on her grave, which was typical of the graves of the First World War Serbian soldiers who she had come to Serbia with (Kingdom of Yugoslavia) through Thessaloniki.
After completing his music education, Pepi started playing in different ensembles. He first started studying Medicine at the University of Ljubljana, followed by the studies of Veterinary Medicine in Zagreb, only to end up at the Faculty of Philosophy in Novi Sad, in the English and German Language Department. Upon his return to Novi Sad, he spent more and more time in the world of music. He played in a private dance school and as an accompanist at the high ballet school. He also worked as a fencing instructor (another great love of his) to actors and actresses in the Novi Sad School of Acting (Boris Dvornik, Ciga Milenković…). Since he went to fencing classes in Maribor, he arrived in Novi Sad as an excellent swordsman. Besides fencing, he took up swimming and water polo, engaging successfully in these sports which were in their infancy in Novi Sad.
However, he was best-known among his colleagues and musicians for his ability to quickly and easily take down the latest songs from Radio Luxemburg. He showed a particular interest in jazz music. He played the trumpet in Angelo Vlatković's band for a while, but soon became a permanent pianist in the quintet of Bogdan Dimitrijević-Jimmy, his great tenor-saxophonist friend. The orchestra line-up included Mihajlo-Miša Kelbli-clarinet, Triva Petrović-drums and Julije Stefanidis- double bass. They played more and more often for the needs of Radio Novi Sad, which was formalised in 1958 by their first contract on permanent engagement. They were an unavoidable part of all dance parties in the city, in the Craftsmen's Centre in Telep, and many places where the youth of Novi Sad gathered. Sunday teas at Zmaj Jovina Grammar School were famous as well as dance evenings in the Student Club in today's Gallery of Rajko Mamuzić.
On 31st May 1958, Pepi got married to Emina Čamo, an artist and arts teacher in Primary School "Vasa Stajić". Pepi's best man at the wedding was Stevan Radosavljević, the first conductor of the Dance Orchestra of Radio Novi Sad, and Emina's 'best man' was Jovan Soldatović, her former professor and renowned Yugoslav sculptor from Novi Sad. The reception was organised in Emina's family home, and besides relatives, the guests at the wedding were mostly from the world of music and fine art. Around midnight, the newly-wed couple walked with their guests to the Student Club, where they danced the waltz to the great round of applause of those present.
Their honeymoon had to wait until the end of school term, when they got on the train to Italy, through Venice, Rome, Napoli, and to Capri by boat. On their way back, they got off in Poreč, and enjoyed the just opened hotel "Plava laguna". They spent a fortnight there, where they learned the beauties of diving, the love of which they passed on to their children later.
Pepi became a member of a new family, where he was accepted as their own child by Emina's mother Barbara and father Sulejman. When he gave up playing at the Student Centre, Pepi brought the piano home, where he started working on arrangements for popular songs of that time as well as his original music. At that time, many popular international compositions were adapted with texts and arrangements that were typical of our region, and produced by Radio Novi Sad.
In the summer of 1959, he left with Emina to visit their family in Austria, Germany and France. They bought their first diving and underwater fishing gear as they left for the coastal town of Biograd, where Pepi had an engagement with his orchestra at the Hotel. Each evening, after the gig, they went by boat to Kornati, where they would spend the day sunbathing, diving and underwater fishing. Kornati was the most beautiful place on the entire Adriatic coast at that time, and there was an abundance of fish.
Besides his radio work, Pepi often travelled around Vojvodina and throughout former Yugoslavia with a group of actors and singers who organised events in different places, which were very popular at that time. It was often quite demanding, but it allowed him to gain great renown and make many friendships he was very proud of over the years.
At the first Jazz Festival in Bled, Pepi appeared with his trio – with Ladislav Rebrek–Mračni, double bass and Triva Petrović, drums. His composition "Pozdrav Makedoniji" in 9/8 rhythm was the first ever traditional folk rhythm and musical motif to appear in a strictly jazz style concept of composition. He received excellent reviews for this composition that served as an encouragement for his further work and development of his vision of jazz.
In 1962 he went to do his army service in Dugo Selo near Zagreb, where he spent all of the mandatory sixteen months. Emina came every month to visit him and on these occasions they spent time in Zagreb in the company of famous artists and musicians of Zagreb. They celebrated the New Year's Eve of 1961 in the Esplenada Hotel in the company of the 4M Quartet, and the Boško Petrović Trio, who was the most famous Yugoslav vibraphonist. At that time he was thinking of working on a fusion of classical music and jazz, so he took part in the 1962 third Bled Jazz Festival with an unusual ensemble composed of Bora Višnjički, guitar, Ladislav Rebrek, double bass and Pepi, piano. The composition "Sećanja" (Memories), in three movements, was inspired by Chopin's As major Polonaise. The audience greeted them with standing ovations, but the music critics of that time gave them poor reviews, with a remark that "Jazz is original music that draws its ideas from original sources and has its independent and developmental path". At that time, it was pure avant-garde, much before some international artists such as Dave Brubeck or Michele Lagrange. Pepi took part in the same festival as a pianist with the newly-established Entertainment Orchestra of Radio Novi Sad as well.
That same year, the famous American music editor Willis Conover of the 'Voice of America' and the producer of the Newport Jazz Festival, whose cult programmes were listened to all over the world, came to visit Radio Novi Sad. He chose 12 compositions by Josip Lorbek Pepi, ranging from trio to orchestral pieces for big band, suggesting that it would probably be good for him to continue his career in America. His compositions played for years on radio 'Voice of America' in Conover's programmes dedicated to jazz.
Around that time, Pepi wrote an exceptional arrangement for popular singer Radmila Karaklajić, which was actually an adaptation of the song "Anđelina Zuma Zuma", which she sang with the Bogdan Dimitrijević Quintet. It was the first single in former Yugoslavia to be sold out, the incredible 100,000 copies, in only a couple of weeks.
Pepi's workday would begin at 9 am with a rehearsal or recording session at the Radio until about 1 pm. He always spent his afternoons composing, writing arrangements for big band, or arrangements for other orchestras throughout former Yugoslavia. Two or three times a week he had scheduled performances with his trio or the Bogdan Dimitrijević Quintet.
He spent the summer of 1962 with Emina in Italy, visiting Venice and Padua, and upon their return to Yugoslavia, he left for Mali Lošinj, where he performed with Aleksandar Korać and the rising star of that time Ljiljana Petrović for one month.
In the period between 1963 and 1965, he got his sons Staša and Sead. The arrival of the children disturbed his work atmosphere, but there were their mother and granddad to help when it was needed. Nothing important really changed in Pepi and Emina's life. The children went to numerous trips and tours with them over the years, before they started going to school. Summers were always reserved for family trips to one of European countries: Italy, Greece, Austria, Germany and France.
In 1967 Pepi had an extensive tour of Russia. Upon his return home, he suggested to Emina to move with the family to Moscow, which she decidedly refused saying: "We have turned down a two-year engagement in West Germany, we won't move to the USSR now, we are staying in our country". This is when the great friendship with one of the most famous world string quartets the Borodin Quartet started. The quartet had several tours of Yugoslavia and came to Novi Sad to visit Pepi and Emina each time. That same year, they bought their flat in Liman II, probably the only one to be paid for, as most families got their houses and flats from the community. Pepi was not exactly to the taste of the authorities of that time, because he was equally befriended people from the East and the West.
He did over a thousand compositions and arrangements in his career, out of which about a hundred original compositions for big band, several hundred big band arrangements, about ten compositions for jazz trio and quintet, a large number of compositions for radio dramas, which were very popular for a while, revolutionary songs, choir songs, theatre music, children's musical "Gusarske priče" (Pirates' Stories), which was performed over five hundred times during 1990s, the poem "Slavuji plamenog venca" performed by Bisera Veletanlić, Dragan Tomović and SNT Choir, as well as several successful popular songs, the most famous of which is "Velike Besede", for which he was awarded the Bronze Guitar in Slovenia in 1978, and in 1979 the Grand Prix at the Puerto Rico Festival, where he had an international manager of his own for the first time. His composition "Festivalska Balada" (Festival Ballade) had been given, a little bit earlier, the Grand Prix of the Helsinki Festival.
Except the first and third Jazz Festival, Josic Lorbek Pepi appeared at over 50 different jazz festivals throughout Yugoslavia: Beograd, Novi Sad, Radenci, Valjevo… as well as East Germany, West Germany, Hungary, Russia… After the first conductor, Stevan Radostavljević, had passed away, Pepi became the conductor of the RTV Dance Orchestra. He shared the position with the exceptional Budapest musician and trumpet player Rudolf Tomišić, his friend, who had contributed anthological solos to Pepi's compositions: 'Festivalska Balada' and 'Kontem 73'. During the 1980s, Pepi composed and recorded with the Novi Sad Big Band anthological numbers as well: In memorium, Zoranova igra, Neoplanta Blues, Ujvideki Bop, Panonia Exspress, etc. – compositions that marked that period and the sound of the legendary Radio Television Novi Sad Dance Orchestra.
In 1990 Pepi celebrated the 40th anniversary of his engagement in art in Studio M, where his guests were jazz singer Leena Conquest from New York, Lazar Tošić, the Belgrade Big Band drummer, Miša Blam, the legendary double bass player from Belgrade, and jazz singer Dragana Kecojević, Pepi's student and the first in the series of young singers who he had worked with throughout the 1990s (Julija Boroš, Jana Kubička…). Several years later, in 1993, Pepi had to retire, and the RTV Novi Sad Dance Orchestra was soon disbanded. Whether the orchestra was disbanded or cancelled by a political decision is not so important, but this meant the disappearance of an institution that had enjoyed the reputation of higher importance and renown in the world than many other institutions that still exist and operate in Novi Sad. Disappointed, personally hurt by this fact, Pepi chose to still live and work in the world of jazz, so he went on to form, with Josim Kovač – Kiki, 'All Stars Band' quintet, sometimes sextet, where a number of Novi Sad musicians played. The first line-up was: Mira Čavić, singer, Josip Kovač Kiki, tenor saxophone and flute, Josip Bodor, bass guitar, Slobodan Živković, drums, Fedor Marjanski, guitar and Josip Lorbek Pepi, piano. They appeared in a number of Novi Sad clubs, which was, at that time, the centre of club gigs and jazz in Serbia, as well as some jazz festivals, until the tragic death of Josip Kovač – Kiki in 2002. After that, Pepi gradually retired from the world of music and dedicated his time to his grandsons Lazar and Ognjen. He appeared at the Novi Sad Jazz Festival for the last time in 2008, when he was featured in the Aleksandar Dujin Orchestra with several of his compositions. On that occasion Vitomir Simurdić, a member of the Festival Council, as well as the perennial music editor of Radio Novi Sad, publically read an official thank-you letter to Pepi for almost sixty years of his artistic engagement and the great music and jazz legacy he had left behind. Most of Josip's compositions and recordings with big band are kept in the Radio Television Novi Sad archive as a huge cultural treasure of Novi Sad and Serbia.
He died on 24th July 2010, around midnight, after a serious illness, surrounded by his wife and sons.
ALEKSANDAR BAHUN TRIO