Jumbo Big Band
SATURDAY, 17th November 2018. from 20h
Serbian National Theatre
THE SLOVENIA RADIO AND TELEVISION BIG BAND
THE CROATIAN RADIOTELEVISION JAZZ ORCHESTRA
THE RTS BIG BAND
Conductor: Siegfried Feigl
SIGI FEIGL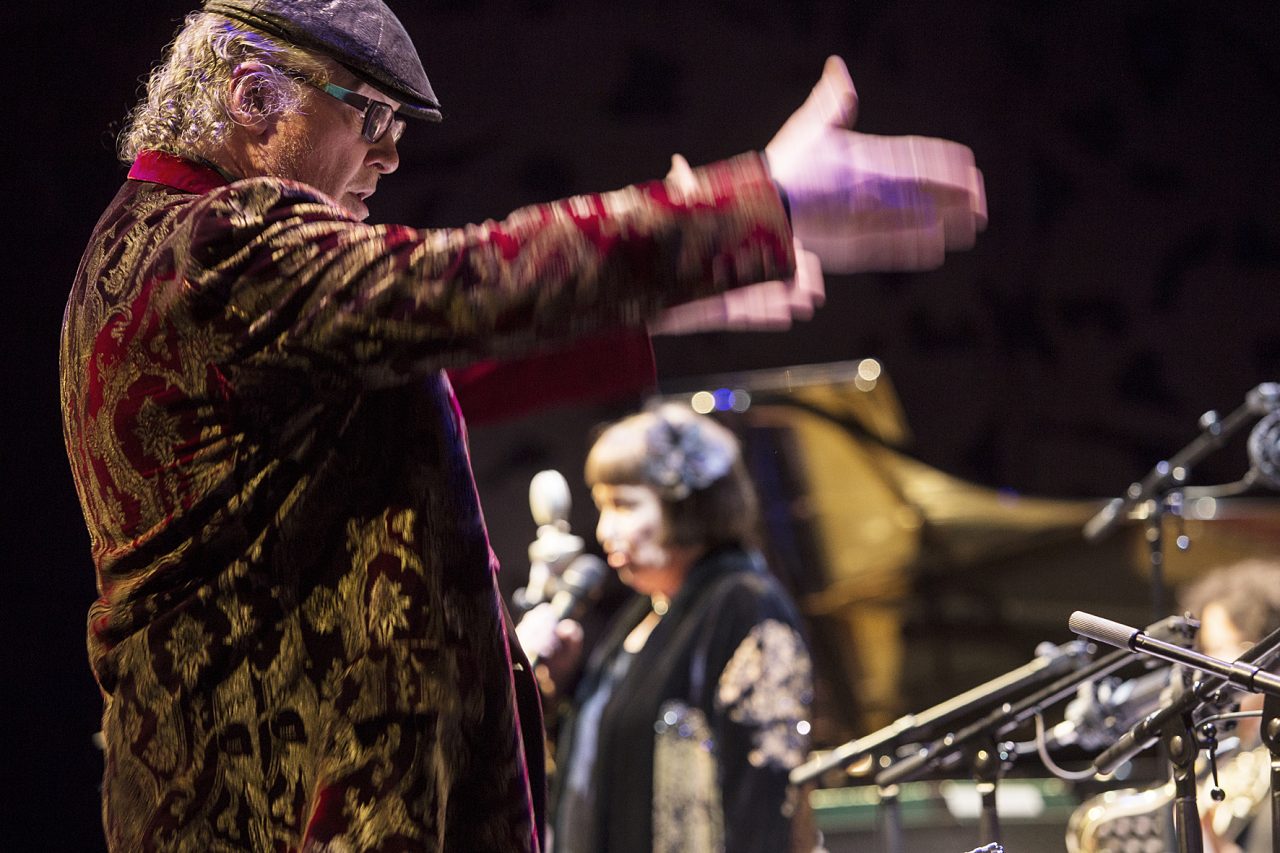 Sigi Feigl (born in 1961) began his professional music education in 1977 at the University of Music and Performing Arts (now Kunstuniversität) in Graz. He completed these studies both in the classical field (clarinet with Prof. Daghofer) and in the jazz section (saxophone with Prof. Miklin). Still at university, Sigi Feigl founded the Big Band Süd in 1979, and led the band until its disbanding in 1997. With this ensemble he had numerous concerts nationally and internationally, was accompanied by international jazz soloists like Art Farmer, Bob Brookmeyer or Toots Thielemans, and had concerts with commercial music stars such as Bill Ramsey or the Kessler-Twins.
In the absence of a large string orchestra in the district of Leibnitz, he founded the Symphonic Orchestra Leibnitz in 1986 directing it until 2003. This period was marked by numerous engagements as a musician such as at the Vereinigte Bühnen Wien or at the Graz Opera House. Sigi Feigl has been teaching at the University of Music in Graz since 1990. In the meantime, he also taught for several years at the Pedagogical Academy Eggenberg or the Music High School in Graz.
In 1996 Sigi Feigl founded and directed the association Kultur in Leibnitz, which was responsible for the cultural affairs of the city of Leibnitz for 16 years, providing a platform for the establishment of the milestones of Styrian cultural policy such as the Leibnitzer Jazzfestival, the Galerie Marenzi, the Marenzikeller or the Leibnitzer Bluestage by Sigi Feigl.
In 1999, he founded the Jazz Big Band Graz, which he directed until 2003, and since 2000, Sigi Feigl has worked for the Jeunesse Musicales in Croatia as Artistic Director of the HGM Jazzorkestar Zagreb. With this orchestra, he toured and given concerts in Sweden, Spain, Macedonia, Cyprus, Turkey, Jordan, Indonesia, USA, Belgium, Austria, Italy, Slovenia; As part of the concert series Sunday Nights (89 concerts from October 2003 – June 2014), there were performances with numerous world jazz stars. All of these concerts were recorded by the Radio Croatia 1 and about 40 of them were broadcasted live. 32 of these concerts were also produced for the popular TV program Vrjeme za Jazz (The Hour of Jazz). 5 CDs were released with the HGM Jazzorkestar Zagreb recordings, out of which the last release, from 2014 (HGM plays the music of Ivo Robić), was awarded the prestigious Porin Award for the best jazz CD of the year. In 2016 he founded the Jazz Orchestra Styria. In total, there are 15 CD productions under the artistic direction of Sigi Feigl.
THE SLOVENIA RADIO AND TELEVISION BIG BAND
Trumpets: Darko Sedak Benčić, Dominik Krajnčan, David Jarh, Tomaž Gajšt
Trombones: Matjaž Mikuletič, Klemen Repe, Rok Štirn, Marjan Petrej
Saxophones: Aleš Suša, Lenart Krečič, Adam Klemm, Braž Trček, Jani Šepetavec, as a guest
Rhythm Section: Jani Moder as a guest, guitar; Blaž Jurjevčič, piano;
Aleš Avbelj, double bass; Bruno Domiter, as a guest, drums

The Slovenia Radio and Television Big Band has existed continuously since 1945 and prides itself with being among the oldest orchestras of its kind worldwide. Its beginnings and first successes can largely be attributed to Bojan Adamič (1912-1995), a conductor and composer who already lead his own orchestra during World War II. Immediately after the war, in May 1945, he started reassembling the band, which soon made its first public appearance at the reopening of the Postojna Cave in June 1945. As early as fall 1945 the orchestra was officially taken under the auspices of Radio Ljubljana. Adamič, remained conductor of the Radio Ljubljana Dance Orchestra (PORL) until the early 60s. The most prominent soloists of that period were Ati Soss, Dušan Veble, Mojmir Sepe, Zoran Komac, Albert Podgornik, Franci Puhar, and the producers Dušan Hren and Jože Kampič. In 1961 the baton was taken over by young Jože Privšek (1937-1998), an extremely talented piano and vibraphone player, whose greatest skills later proved to be composing, arranging and orchestra leadership. Under Privšek, the Radio Ljubljana Dance Orchestra evolved into a top-quality band which not only dominated the scene within ex-Yugoslavia, but received high recognition abroad. In 1978 the band was awarded the prize of the German "Deutsche Phono Akademie" for the best record, competing – and winning – against rivals such as James Last and the Max Greger Orchestra. He created the conditions for the development of leading soloists, who represented the pillars of Slovenian jazz for several decades: Petar Ugrin, Andrej Arnol, Tone Janša, Silvester Stingl, Ratko Divjak, Ladislav Rebrek, Milan Ferlež, Prumož Grašič. The Dance Orchestra was eventually renamed into the Ljubljana Radio and Television Big Band, which in turn became the Slovenian Radio and Television Big Band after Slovenian independence in 1991. After Privšek's retirement in 1992 the orchestra was taken over by Lojze Krajnčan, together with Petar Ugrin, Milko Lazar, Emil Spruk, Tomaž Grintal and some others. We frequently hosted musicians from abroad, including some of the biggest jazz conductors (Peter Herbolzheimer, Mercer Ellington, Maria Schneider, Jerry van Rooyen, Carla Bley, Herb Pomeroy, Mathias Rüegg, Miljenko Prohaska, David Murray, George Lewis, Bill Holman, Michael Abene, Bob Mintzer, Lars Møller, Ryan Truesdell) and soloists (Clark Terry, Stjepko Gut, Johnny Griffin, Ack van Rooyen, Toots Thielemens, N.H.Ø. Pedersen, Diane Schuur, Jiggs Whigham, Jon Hendricks, Albert Mangelsdorf, Nancy Marano, Bobby Shew, Mario Gonzi, Duško Gojković, Boško Petrović, John Riley, Dennis Mackrel, Bojan Z, Eric Vloeimans, Peter Erskine, Ronnie Cuber, Mads Vinding, Mike Stern, Chris Minh Dokey, New York Voices, Bart van Lier, Patti Austin, Ernie Watts, Nicholas Payton, Kurt Elling, Mario Biondi, Seamus Blake, James Carter) of our time. Most of them were impressed by the musicians, the professionalism of the orchestra and by the remarkable level of orchestral jazz production in Slovenia. Today the band is rejuvenated – the average age of its members is just over 30. Most have studied at various jazz academies abroad and each of them masters their instrument with virtuoso skill. From 2002 through 2013 the artistic director and manager was Hugo Šekoranja. In 2013 they formed the artistic committee that consists of four big band members and the artistic coordinator saxophonist Lenart Krečič. The soloists who keep conquering jazz audiences in Slovenia and abroad are Primož Grašič, Tadej Tomšič, Dominik Krajnčan, David Jarh, Blaž Jurjevčič, Adam Klemm, Primož Fleischman, Matjaž Mikuletič, Aleš Avbelj, Ratko Divjak, Aleš Suša, Blaž Trček, Lenart Krečič, Tomaž Gajšt and others. Among the qualities of our Big Band are its diversity and the ability to fulfil the needs of various radio and television programmes. It has excelled in musical genres as diverse as film, dance, popular and classical music. Jazz, however, is the music Big Band RTV Slovenija plays with the greatest dedication and pleasure.
THE CROATIAN RADIOTELEVISION JAZZ ORCHESTRA
Alto & Soprano Sax, Flute: Miro Kadoić, Mihael Gyöerek
Tenor Saxophone, clarinet: Mario Bočić, Vojkan Jocić
Baritone saxophone, bas clarinet: Damir Horvat
Trumpets, fliglhorni: Antonio Geček, Zvonimir Bajević, Davor Križić, Valdemar Kušan
Trombones: Marin Ferketin, Zvonko Košak, Luka Žužić; Bas trombon: Jure Urek
Rhythm Section: Joseph Kaplowitz, piano; Elvis Penava, guitar
Saša Borovec, double bass; Borna Šercar, drums
Conductor: Saša Nestorović
SAŠA NESTOROVIĆ
Saša Nestorović was born on 27th August 1964 in Zagreb. After completing his secondary music education studying clarinet at the Music School "Blagoje Bersa" and MIOC (Mathematical-Information Technology Educational Centre), in 1984, he enrolled in the Saxophone Department of the Music Academy in Zagreb, graduating in 1989 in class of Prof. Josip Nochta. During his university days, he won Vjesnik's "Darko Lukić" award, several first prizes in music students' competitions, and second prize in the Yugoslav music artists' competition. After the university, he spent some time in Cologne where he studied with Jesse Bennett (USA) and Renata Rožića (Hochschule fur Musik Koeln). From 1991 to 1998 he taught saxophone at the Music School "Pavla Markovca" and jazz saxophone and basics of jazz improvisation at the Secondary Music and Ballet School in Ljubljana. From 1998 to 2008 he received 13 Status awards of the Croatian Musicians Union for instrumentalist of the year. From 1998 he was the standing saxophone and clarinet player and soloist of the Croatian Radiotelevision Jazz Orchestra. From 2008 he is Assistant Professor at the Music Academy in Zagreb and the conductor of the Croatian Radiotelevision Jazz Orchestra. As the conductor he has worked with a number of soloists including Charles Toliver, Ernie Watts, Christian McBride, Alexei Sipiagin, Boris Kozlov, Deborah Carter, Rex Richardson, Alen Vizzutti, David Gazarov, and Georgie Fame, among others.
He teaches chamber music, basics of jazz improvisation and jazz ensemble at the Music Academy in Zagreb. He has organised about forty JazzLab workshops in collaboration with the Music Academy, Jeunesses Musicales Croatia and the Student Centre in Zagreb. He has mentored six students' graduation theses. The students' ensembles led by him have won prizes at four competitions in Croatia and Italy.
He has contributed to the preparation of the compendium "Croatian Music in the 20th Century" with the text "Goals and Experiences in Education of Young Croatian Jazz Musicians" published by "Matica Hrvatska" in the compendium under the same name in 2009.
He has been a jury member for both student and professional competitions in our country and abroad, such as the competition "Boris Papandopulo" in 2012 and 2016.
He has cofounded the Zagreb Saxophone Quartet, with which he has had 11 tours – concerts and workshops throughout the USA, Europe and Asia. He regularly performs as a conductor and soloist of the Croatian Radiotelevision Jazz Orchestra, as a member of the ensemble Acezantez and a number of smaller chamber and jazz ensembles. Since his last Conferment of the Title, Nestorović has recorded 14 CDs and had more than 200 concerts in the country and abroad. In the academic year 2016/2017, he was conferred the title of Associate Professor.
Nestorović is the founder of the Music Academy Jazz Orchestra, with which he recorded the project "Harmonija disonance" (The Harmony of Dissonance) under Parma Records (Naxos).
THE CROATIAN RADIOTELEVISION JAZZ ORCHESTRA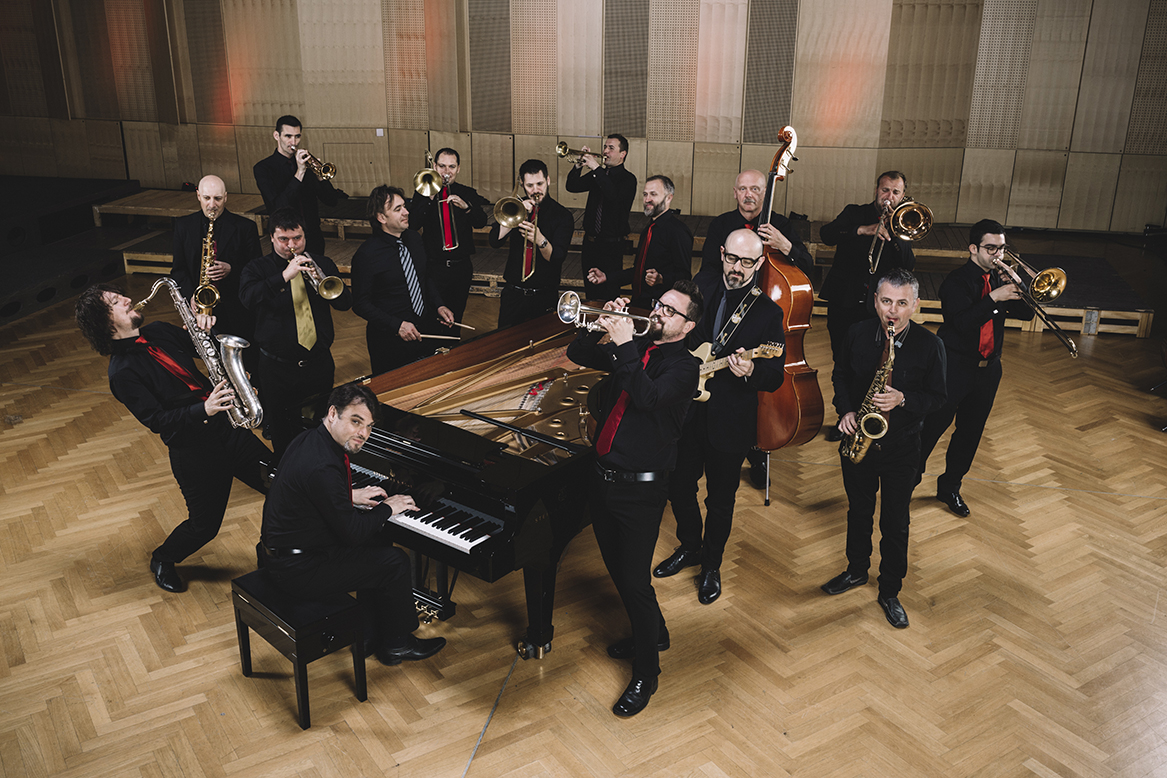 Its continuous seventy-year long activity puts the Croatian Radiotelevision Jazz Orchestra, the only professional ensemble of that kind in Croatia, among the longest-living big bands in the world. It was founded during the season 1946/1947 as the Radio Zagreb Dance Orchestra for the needs of radio programmes and recordings, and over the time, it began making public appearances; besides taking part in a number of public shows and independent concerts in our country and abroad, since 2000 the Orchestra has had its own concert series, which is aired live on Radio Croatia 3. Since the time of its first conductors Zlatko Černjul, Miroslav Killer, Milivoj Körbler and Nikica Kalogjera, through Miljenko Prohaska, to Silvije Glojnarić, Saša Nestorović and Andreas Marinello, the Orchestra has grown into one of the most influential jazz ensembles on our scene and a true nucleus of the jazz music's best. One of the Orchestra's particularities lies in the fact that besides performing, the majority of its members are active as composers and arrangers. Miljenko Prohaska, who stayed at the helm of the Orchestra for the longest period of time, 1955 – 1989, took the programming orientation towards domestic repertoire, which contributed to the Orchestra's developing a specific, internationally recognisable style. This practice is on-going and reflected in competition project New Compositions for HRT Jazz Orchestra, authorial concerts of Orchestra members and numerous collaborations with domestic musicians with various genre backgrounds. On the other hand, leading musicians from the international jazz scene regularly appear with the Orchestra as guest soloists and conductors: Art Farmer, Clark Terry, Ted Curson, Johnny Griffin, Sal Nistico, Ernie Wilkins, Kai Winding, Ed Neumeister, John Lewis, Art Taylor, Lucky Thompson, Ignacio Berroa, Jon Faddis, Georgie Fame, Boris Kozlov, Lars Møller, among others. In the past couple of seasons alone, the Orchestra has hosted the greats such as Terella Stafforda, Erniea Wattsa, Barta van Liera, Luisa Bonille, Alana Broadbenta, Christiana McBridea, Edwarda Palerma…
Its prolific discographic activities include collaborative projects with some of the leading protagonists of the Croatian music scene, among which the most notable albums are U sredi našeg sela (2011), Still Standing with Radojka Šverko (2011), Family with Matija Dedić (2012), With Every Breath with Lela and Joe Kaplowitza (2012), Bugles over Zagreb with trumpet player Rex Richardson and composer Doug Richards, released in the USA for the Rex Richardson Production label (2014), Antarctica and Other Destinations featuring the music of Mak Murtić (World Local Records), Well Paid Girl with Valerija Nikolovska and Viktor Lipić (Croatia Records), and Lasse Lindgren Plays the ABBA Songbook in a Big Band Atmosphere (Imogena Records). The latest albums were released in 2017: Stavi pravu stvar with Marko Tolja in collaboration with Aquarius Recordsom, and Chui ovu glazbu, with the ensemble Chui in collaboration with Dancing Bearom, which has won two Porin Awards, for the best jazz album and the best jazz performance (the composition Punch).
"This is the kind of jazz that would appeal to younger generations who are otherwise very rarely attracted to this musical genre. Especially so, due to the fact that it is an interesting combination of a band and the HRT Jazz Orchestra, which features top soloists, who have rendered the overall result a unique experience. It's like watching some old American movies where a crew is cruising through remote neighbourhoods in a car, the neighbourhoods where the best jazz clubs used to be and where this music originally came from. As they are driving through those neighbourhoods, this kind of music is playing on the car audio system. This is the kind of feeling I have when I am listening to this masterful work." (Nikola Knežević: Chui and the HRT Jazz Orchestra: Chui ovu glazbu)
"To paraphrase the old folk saying, a hero struck on a hero; but it would probably be better to say that the two heroes came hand in hand and together treated us, for two nights, to something memorable and worth waiting for. As much as Chui has popularized jazz in the last couple of years, the Croatian Radiotelevision Jazz Orchestra has been doing that for decades, and it is an ensemble which has seen generations of top musicians, because if you're not top, you are not for this ensemble. This fantastic concert (which was broadcast live by Croatian Radio 3, and recorded by Croatian Radiotelevision), has resulted in a double album with a very original name, which speaks volumes." (Boris Abramović: Chui and the HRT Jazz Orchestra: What's Next?)
"Nobody has ever inspired the audience to dance at a concert at St. Michael's Fortress as Cubismo and the HRT Jazz Orchestra have tonight. It was their first joint appearance after the Zagreb "premiere"". (Diana Ferić: The Dancing Concert by Cubismo and the HRT Jazz Orchestra at St. Michael's Fortress)
"Marko also told us that jazz has always been his greatest love, and that he was very happy because he had finally recorded a jazz album after a ten-year long career, and, as he repeatedly said from the stage, and restated later, every gig with the jazz orchestra is a celebration for him, but a privilege as well, because, as, to quote his words, orchestras such as this one are rare today." (Pula's everyday life: Marko Tolja and the HRT Jazz Orchestra delight the Pula audience)
THE RTS BIG BAND
Trumpets: Dragoslav "Fredi" Stanisavljević, Marko Đorđević, Vladimir Krnetić, Nemanja Banović Trombone: Nemanja Zlatarev, Kosta Vukašinović, Ivan Ilić, Ivan Platner
Saxophones: Kristijan Mlačak, Danilo Mitić, Ljubiša Paunić, Aleksandar Jaćimović, Bojan Cvetinov
Rhythm Section: Ivan Aleksijević, piano; Goran Potić, guitar;
Milan Pavković, double bass; Miloš Grbatinić, drums
BIG BEND RTS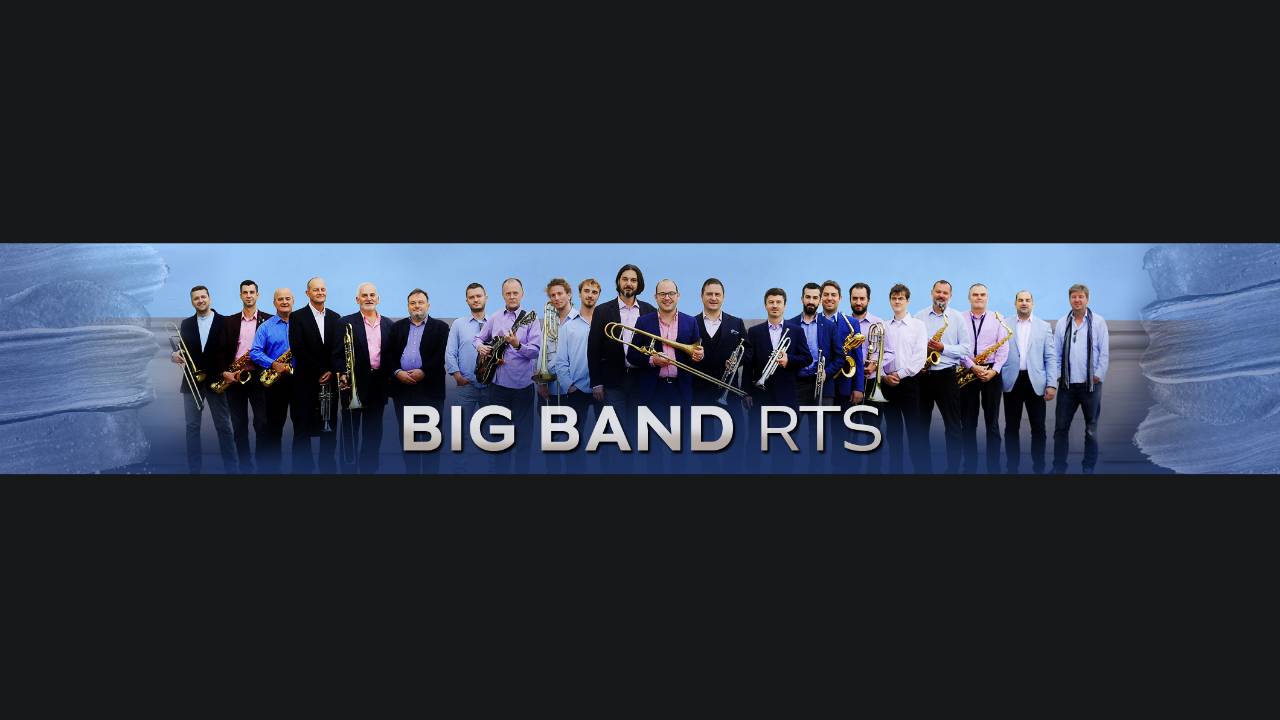 The RTS Big Band was founded in 1948 under the name The Radio Belgrade Entertainment Orchestra, in the review orchestra formation, only to start functioning as a big band after the string section separated from it.
For a number of years, the orchestra has been led by eminent conductors/leaders, composers and arrangers: Mladen "Bob" Guteša, Vojislav "Bubiša" Simić, Zvonimir Skerl, Dusko Goykovich and Steve Gut.
For the 70 years of its creative activity, the orchestra has received a number of major awards and recognitions. At the Juan-les-Pins Jazz Festival in 1960, appearing as therefore unknown, our ensemble was awarded first prize. After its first tour in 1957, the Big Band appeared at well-known international festivals: Tel Aviv, Montreaux, Marseille, Thessaloniki, Munich, and several UNICEF concerts (Belgrade, Paris, Geneva), always with remarkable success and to a great critical acclaim.
Over the years, the orchestra appeared with the greatest international jazz names as guests, such as: Clark Terry, Benny Golson, Johnny Griffin, Maynard Ferguson, Tony Scott, Jerome Richardson, Ernie Willkins, Alvin Queen, Reggie Johnson, Eddie Henderson, Hank Mobley, Jon Hendricks, Roy Hargroove, Brad Leally, Diane Schuur, Don Menza, Steve Turre, Ronnie Cuber, Randy Brecker, Jon Faddis, Chuck Findley, Gregory Hutchinson, Ack Van Rooyen, Peter Herbolzheimer, Ed Thigpen, Jens Winter, Nathan Davis, Don Byas, Larry Vuckovich, Kenny Drew, Philly Jo Jones, Sal Nistico, John Fedchock… as well as the stars of the world show business such as: Ray Charles, Denny Kaye, Josephine Baker, Mireille Mathieu, Enrico Macias, Anni Frid Lyngstad-ABBA), among others.
The orchestra has spawned a pleiad of first-class soloist who are today names of the world-renown. They are: Mile Pavlović, Bora Roković, Dusko Goykovich, Branislav Lala Kovačev, Steve Gut.
The selection of recent releases: The Belgrade Radio Big Band 1948-1978, "Muzika moje mladosti", Stjepko Gut & RTS Big Band – "Afro Balkan Sketches", "Willi Johanns and the Radio Belgrade Big Band", "The Radio Belgrade Big Band – 75 years of Radio Belgrade", "Caravan", "It's Time for Jazz", "Sweet Love", Dusko Goykovich & The RTS Big Band