Sandra Klemm, vocal
Milan Stanisavljević, piano i Rhodes • Vukašin Mišković, guitar
Nikola Matošić, contrabass • Bruno Domiter, drums and percussion
Adam Klemm, tenor and soprano saxophone • Tomaž Gajšt, flügelhorn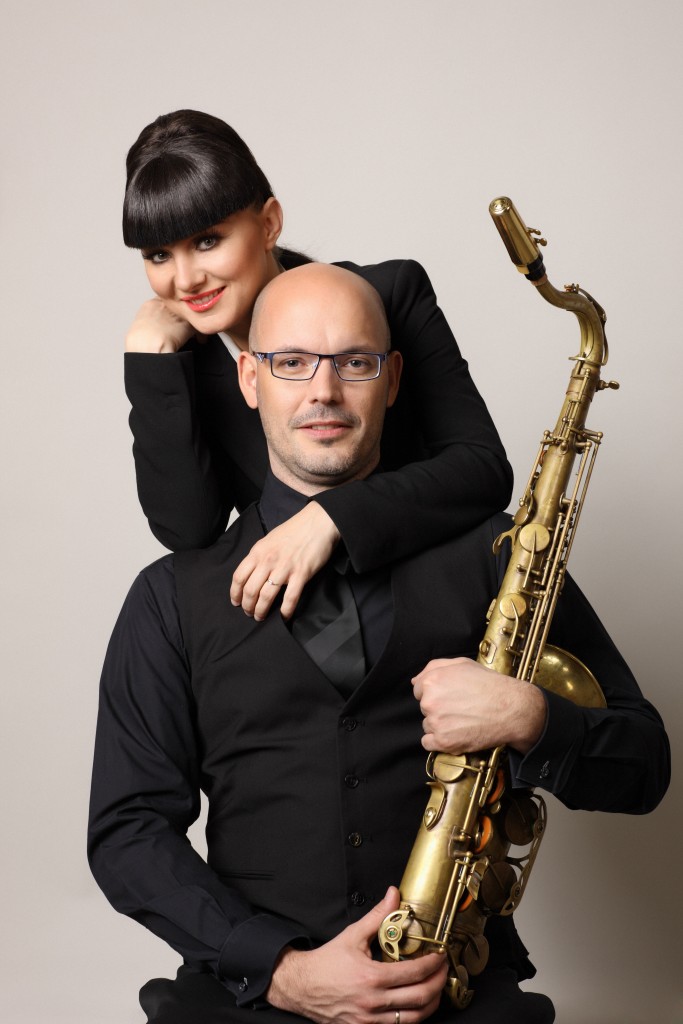 Sandra and Adam Klemm have joined their forces together to create a joint project named Nostalgija. The music on the double CD release originates from the areas they spent their childhoods in (Bosnia, Vojvodina). The compositions are connected with a common thread of nostalgia. This is an emotional and honest vocal-instrumental account, given through songs of the Balkan and Hungarian roots in jazz interpretation of these artists. The different roots of the musicians, together with an intriguing instrumentation and arrangements is what makes this project difficult to place in the existing music genres. The CD brings original songs; arrangements of Bosnian sevdalinka songs, as well as Hungarian folk and traditional music; and arrangements of some popular songs from their youth, from today's perspective. In concert context, they are presenting this project under the name Sandra Klemm & Adam's Family.
Sandra Klemm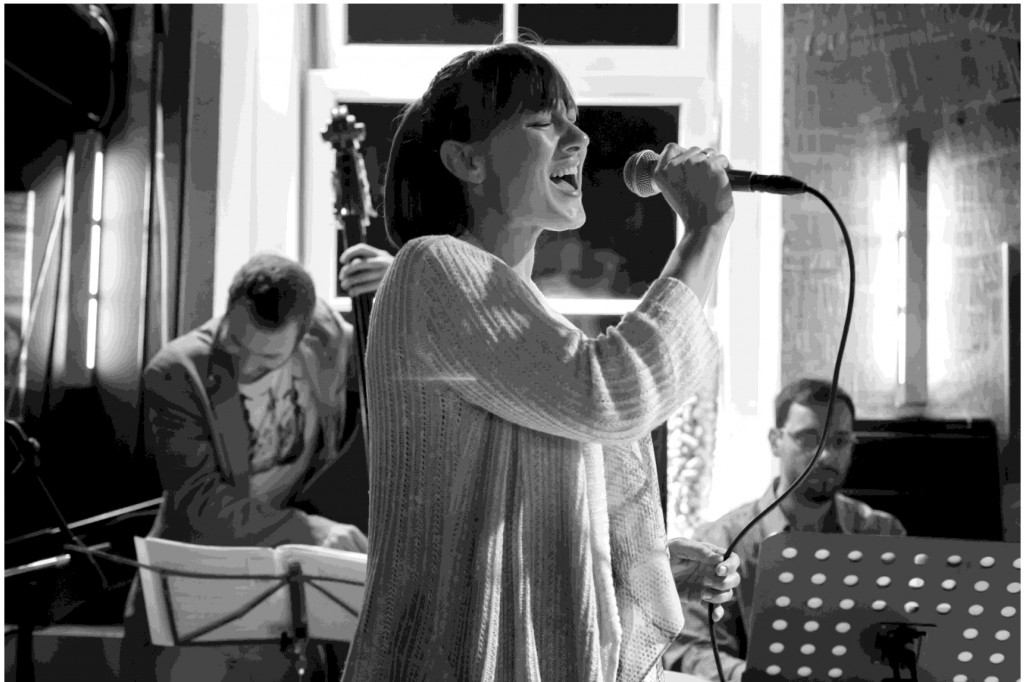 Born in 1972 in Banja Luka, Sandra Klemm has been living in Ljubljana since she was 7. She was a member of the children and youth choir of RTV Ljubljana for a number of years. She graduated from the Jazz Department of the Ljubljana Music and Ballet Conservatory in class of Prof. Nada Žgur. She has attended the workshops of the legendary pop-jazz educator Dave Straud, one of the founders of the Speech Level Singing method, the workshop of Bob Stoloff – Vocal Improvisation Technique, and the workshop of the famous vocal group New York Voices in Graz in 2003.
She has released 8 albums: Sendi (1992), Zate (1994), Nemirna kri (1995), Zase me vzemi (1996); Brezmejna ljubezen (1999); Na drugem koncu sveta (2000), Se še spominjaš (2009) i Nostalgija (2015).
Sandra was one of the first singers to introduce dance music into the Slovene pop scene. The album Nemirna kri, which was produced in collaboration with singer and producer Daniel Popović (Julie), was awarded the "Srebrna kaseta" Prize in 1995. In 1998 the single Stigmata from the album "Na drugem koncu sveta" was selected by the Slovene distributor for the promotion of the Hollywood feature film of the same name. As a choir member she performed with Bobby McFerrin at the Ljubljana Summer Festival 2004. Sandra took part in Eurovision song contest when Slovenia first participated in it with the EN X BAND in Ireland in 1993, and again as a back vocal with singer Vili Resnik in England in 1998.
She has appeared twice as a soloist at the major Slovene pop festival "Slovenska popevka", accompanied by the Big RTV Slovenia Review Orchestra (1999 and 2009).
She has appeared several times with her vocal trio as back vocals at the festival "Slovenska popevka," in the production of the most popular music show on the national television – Zoom, and in collaboration with the RTV Slovenia Big Band at various concerts throughout Slovenia.
This year, her 8th CD Nostalgija has been released under the Slovene Celinka label, with her original music taking a turn towards ethno-jazz.
She currently teaches jazz and pop solo singing at the school "Zavod Sv. Stanislava," and in workshops, and is active working in studio.
Adam Klemm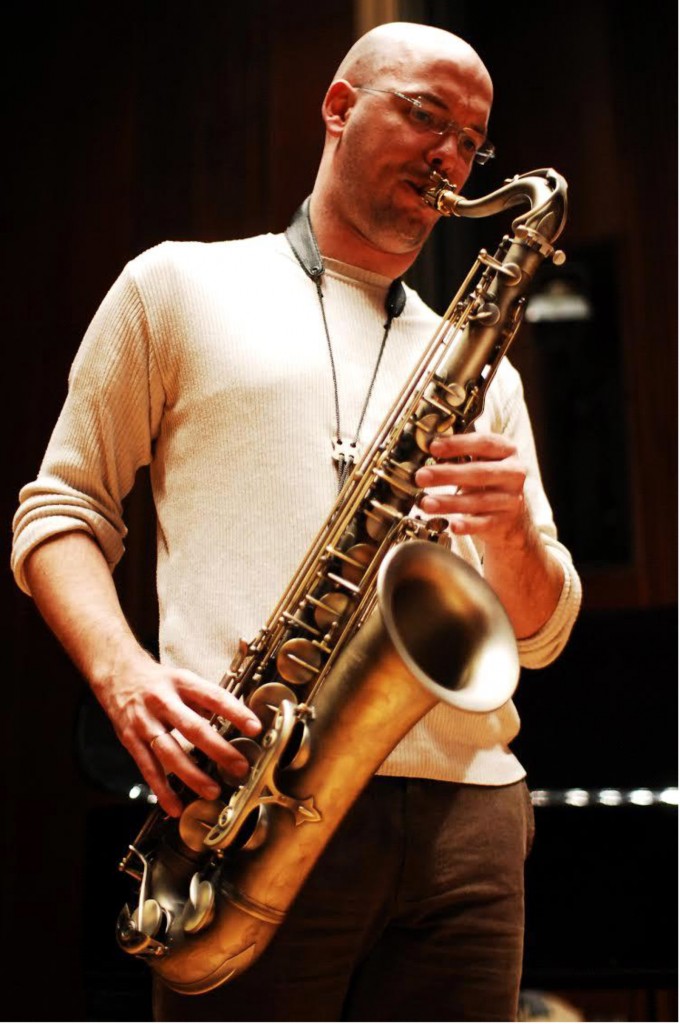 Adam Klemm was born in 1976 in Novi Sad. Upon completing his secondary education at the Music School "Isidor Bajić" in Novi Sad in the Clarinet Department, he continued his studies at the University of Music And Performing Arts in Graz, Austria. In 2005 he earned a Master Degree in Arts – Jazz Saxophone. During his Graz studies, he received a scholarship from the Austrian Ministry of Culture and went on to study at the prestigious Sibelius Academy in Helsinki, Finland. Upon his return from Finland, he played with the legend of the Austrian jazz scene, guitarist Karl Ratzer and released a CD with the Sarajevo-based jazz group Minority. He has played with: Dennis Rowland, Gianni Basso, Lee Harper Little Big Band, Karl Ratzer, Barbara Hendriks, Ladislav Fidri among others.
As a bandleader of The Adam Klemm Banda, he had his first release Hot Coolen for the independent label Sensor Records in 2007.
Klemm has been an endorser of P. Mauriat saxophones for Southeast Europe since 2008.
The permanent soloist of the RTV Slovenia Big Band since 2008, he also teaches saxophone and jazz band in the music school GCEW in Ljubljana.
He is a member of the Novi Sad Jazz Festival Council.
As a member of the RTV Slovenia Big Band, he has had the honour to share the stage with jazz greats such as: Mike Stern, Ernie Watts, Joe Lovano, Ronnie Cuber, Patti Austin, Peter Erskine, Nicholas Payton, and Kurt Elling…
He released his second CD Nostalgija (2015) together with his wife Sandra Klemm under the independent label Celinka.
Tomaž Gajšt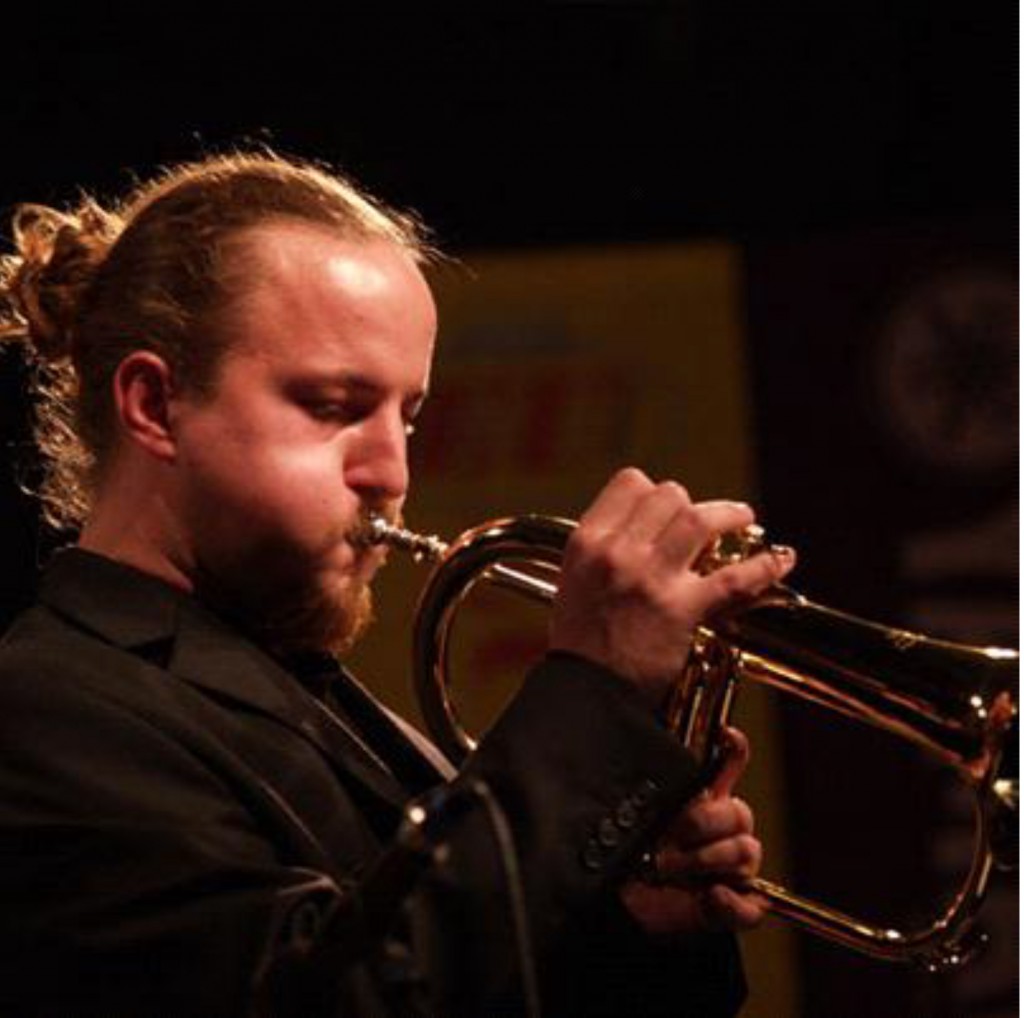 Tomaž Gajšt is one of the most important young trumpet players on the Slovene jazz scene. He picked up the trumpet at the age of 10. Upon completing his high school education at the music school in Maribor, he studied at and graduated from the University of Music and Performing Arts in Graz in class of Prof. Eduard Holnthaner and Jim Rotondi. As a member of the HGM Jazz Orchestra for years, he has had an opportunity to perform with the world jazz greats such as: Bobby Shew, Peter Herbolzheimer, Dick Oats, John Thomas, Herman Brauer, Randy Brecker, Gustavo Bergalli, Victor Villena, Barbara Dennerlein, Eric van Lier, Fritz Pauer, Bob Mintzer, Yellowjackets, Karlheinz Miklin, Earl Gardner, John Riley, Michael Phillip Mossman, Miljanko Prohaska, Don Menza, Man Sound, Jonas Knutson , Deborah Brown, Heinz Czadek, Jim McNeely, Peter Erskine, Lasse Lindgren, DenaDeRose, Luis Bonilla, David Liebman, among others.
He is currently a soloist in the RTV Slovenia Big Band and a member of a number of combo ensembles in the entire region.

Bruno Domiter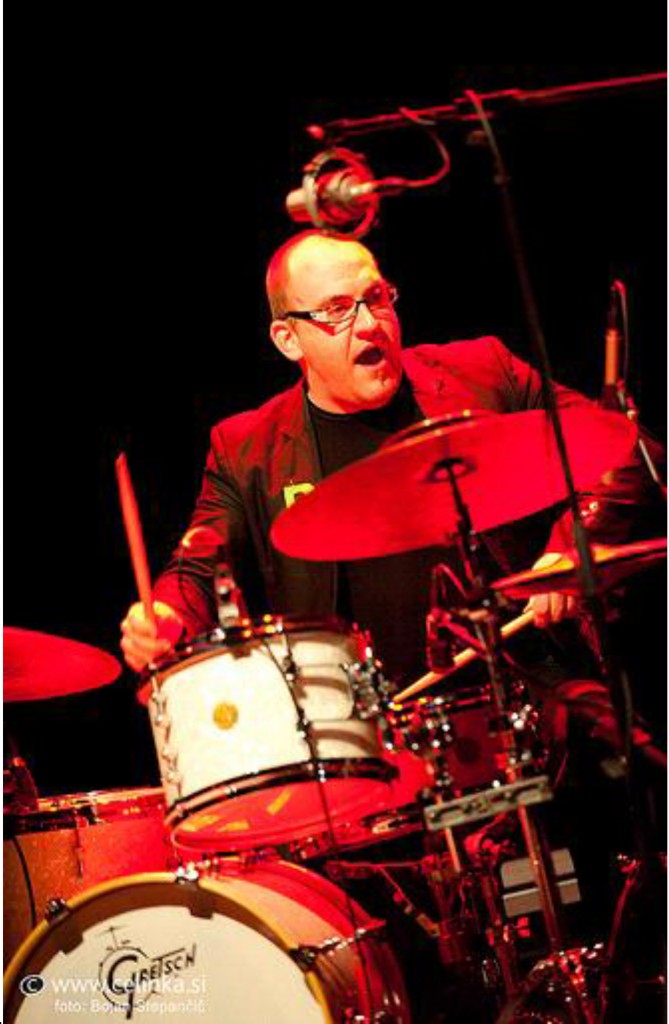 Bruno Domiter was born in Maribor in 1980. He graduated from the University of Music and Performing Arts in Graz – Jazz Department (drums) in class of Prof. Howard Curtis.
As a member the Croatian Music Youth (HGM) Jazz Orchestra for years he has had an opportunity to work with renowned names of the world and European jazz scene: Randy Brecker, Bob Mintzer, Yellowjackets, Boško Petrović, Barbara Denerlein, Bobby Shew, Peter Herbolzheimer, Gustavo Bergalli, Victor Villenia, Eric van Lier, Michael-Phillip Mossman, Don Menza, Kevin Mahogany, ManSound, Byron Motley, etc.
He plays with the Slovene pop group Papir as well as in pop-funk band Mih Group, the Maribor-based percussion ensemble Stick Control and various other jazz projects in Slovenia and abroad (The Boško Petrovič Quartet, the Zdenko Ivanušič Quartet…).
He has extended his knowledge in jazz seminars with John Riley, MA.
He teaches percussions in the Maribor and B.A.S.E. music schools.
Vukašin Mišković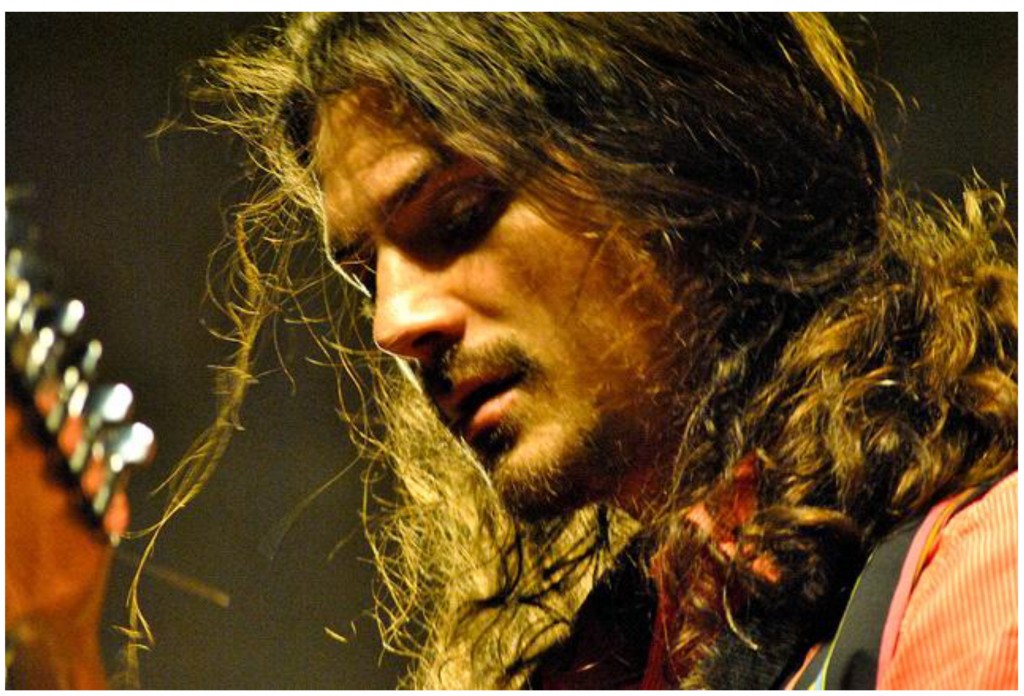 Born in 1980 in Vrbas, Mišković has graduated from the Guitar Department of the Academy of Arts in Novi Sad. In 2008 he got his Master Degree in Classical Guitar from the "University of Music and Performing Arts" in Graz, where he studied in class of Prof. Martin Mislyvecek. During his career, he has worked with a number of musicians from different music genres, and had numerous solo concerts. As a member of the ensemble "Boris Kovac & La Campanella" he has played over 100 concerts throughout Europe and had 3 CD releases. In 2010 Mišković started his projects "Trio Diabolico" (Lorenz Pichler– flute, Peter Pichler– clarinet), and in 2011, the "Akshani Project" (Fedor Ruškuc-double bass, Ištvan Čik-drums) releasing his first authorial album: Akshani Project- Part One.
Nikola Matošić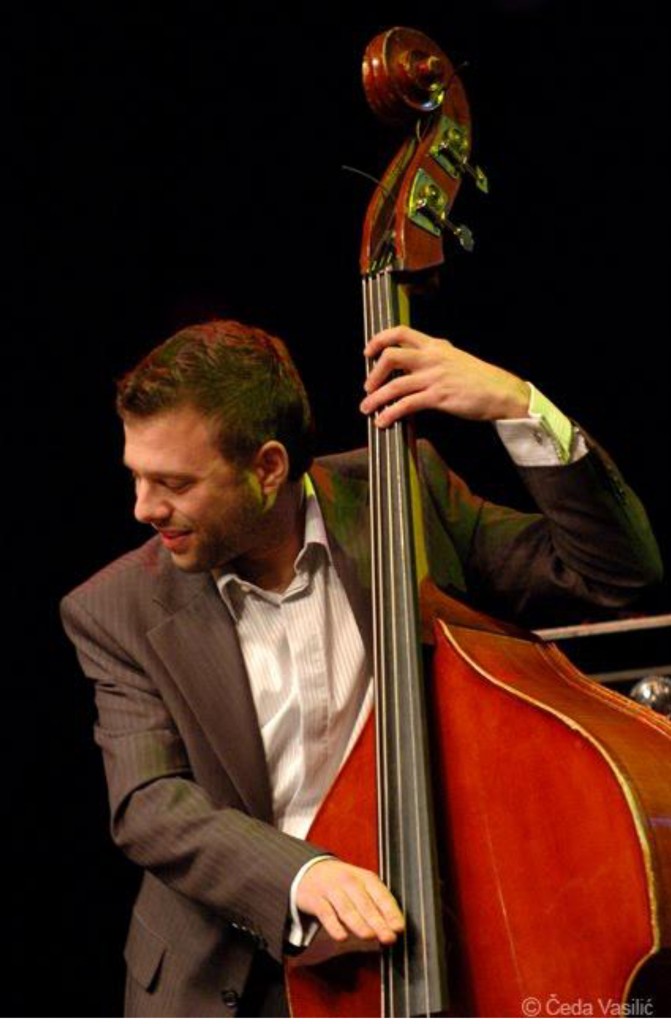 Nikola Matošić was born in 1978 in Ljubljana. He is one of the leading figures among the young jazz musicians in Slovenia. He started his career as a self-taught musician and later attended various seminars, workshops and took private lessons, eventually enrolling in a private music academy in Linz, in order to extend his musical knowledge. He is to be thanked for the continuing presence of jazz in Slovenia, for its preservation and modernisation, as he is the organiser and founder of the jazz jam sessions in Ljubljana. His collaboration in a number of projects proves his reputation as one of the best jazz double bass players in Slovenia. The co-winner of the Porin Prize for Best Jazz Album in 2012 with Miro Kadoić's project Free Point, he has appeared at a number of European stages as well as outside the EU. He has performed with famous and renowned jazz musicians such as: Deborah Brown, Rachel Gould, Herb Geller, Renato Chicco, Peter Mihelich, Howerd Curtis, Doug Sides, Aaron Goldberg, Tony Lakatos, Vincent Herring, Doug Hammond… Nikola has explored other styles of music besides jazz, through collaborations with Zoran Predin, Oto Pestner, Svetlana Makarovič…
Milan Stanisavljević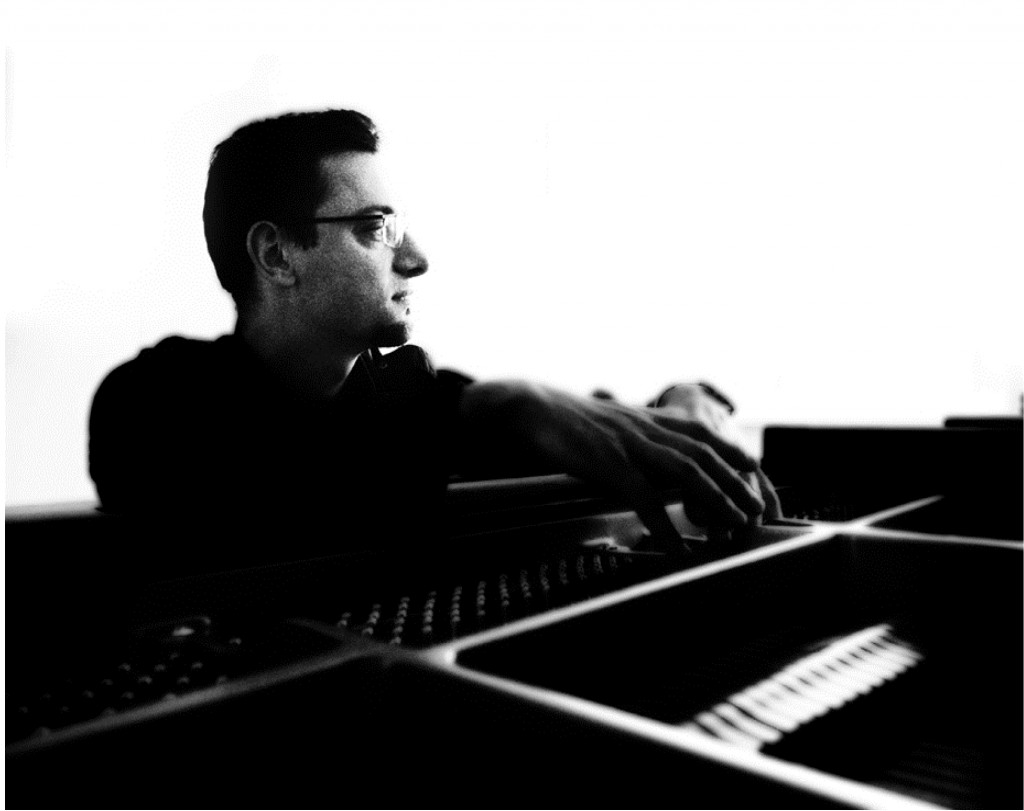 Milan Stanisavljević was born in Kragujevac, Serbia. He started playing the piano at the age of 9, completing primary and secondary music school for classical piano. He made his first steps in jazz with the famous Belgrade jazz pianist Miloš Krstić. At the age of 18, Milan enrolled in the Faculty of Music Art (FMU) in Belgrade, earning a diploma in Harmony and Harmonic Analysis in class of Prof. Rastislav Kambašković. After Belgrade, he went to one of the oldest European jazz schools, the University of Music and Performing Arts in Graz, Austria. He studied jazz piano with Harald Neuwitrh PhD., Claus Raible and Olaf Polziehn. He also had a chance to learn from great pianists such as Renato Chico, Fritz Pauer, as well as drummer Howard Curtis, among other great educators at this school. He received his Bachelor Diploma in January 2008, immediately continuing to Master studies, which he completed in January 2010. Numerous workshops at the school enabled him to meet great names such as Billy Hart, Ron McLure, Jerry Bergonzi, Dave Santoro, John Holenback, Geofrey Keezer, George Cooligan, Peter Helbotzheimer, etc.
He is currently leading a trio with Anđelko "Đele" Stuparom (drums) and Milan Nikolić (bass). Among other, he has played with Stjepko Gut, Mima Mitrović, Ratko Divjak, Christopf "Pepeom" Auer, Valentin Czihak, Gasper Bertoncelj, Jure Pukl, Igor Matković, Cene Resnik, Gaspar Persl, Robert Jukić, Nikola Matošić, Marko Đorđević, Vladimir Kostadinović, Dušan Simović, Branko Sterpin… He frequently plays with singer Jadranka Juras either in a duo or in her group J.J.J.Q.(The Jadranka Juras Jazz Quartet).
In 2011 Milan released his first album entitled "Awakening," which got excellent reviews on the prestigious jazz web site All About Jazz.
Since 2012 he has been teaching jazz piano at the Conservatory of Music and Ballet in Ljubljana (Konservatorij za glasbo in balet-Ljubljana).
This year he is releasing his second CD of original music Soundquest for the Austrian Barnett Records label.