Evgeny Ring, Keln
and
THE "NEW CENTROPEZN" JAZZ QUARTET
Aram Rustamyants, piano • Vitali Perov, bass • Gregory Deratsuev, drums • Andrey Machnev, saxophone
Registration for the workshop can fill HERE
Evgeny Ring, alto saxophone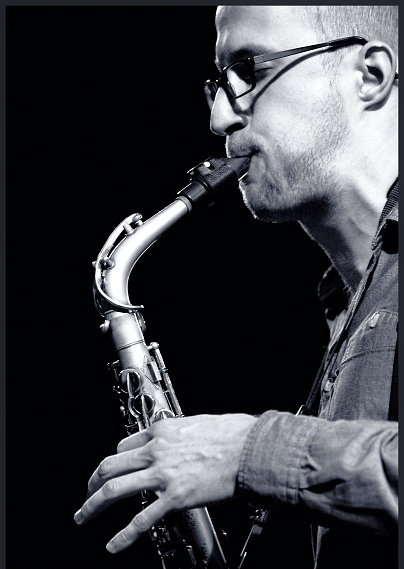 Evgeny Ring was born in Rostov-on-Don in Russia in 1987. After starting to play the saxophone at age 7, he joined the Kim Nazaretov Children Big Band. He studied briefly at the Rostov College of Arts and moved to Leipzig, Germany, in October 2007, where he is now a student at the Hochschule für Musik und Theater. His teachers include, among others, Uwe Plath, Richie Beirach and Johannes Enders. Featured soloists he has worked with include Randy Brecker, David Liebman, Billy Hart, Jerry Bergonzi, Dennis Rowland, Phil Markowitz, Richie Beirach, Nils Wogram and many others. Evgeny has won various prizes and awards both as a soloist ("2001 Jazz Parnas", St.Petersburg/Rus.; "2002 Jazz Festival" Rostov/Rus.; "Grand Prix Russian Jazz Award 2007") and with his quartet ("Internationalen Jazzpreis Burghausen" and the "Jazz Hoeilaart Belgium"). Evgeny is an active member of various musical ventures (Evgeny Ring Quartet, Eva Klesse Quartet, The Big Jazz Thing, EWE Jazz Orchestra and others).
THE "NEW CENTROPEZN" JAZZ QUARTET
  The "New-Centropezn" jazz quartet is well known not only in Russia but also abroad in Germany, Belgium, Spain. They have been performing concerts featuring soloists such as vocalists Dennis Rowland, J.D.Walter and Fay Victor, saxophonists Jerry Bergonzi and Uwe Plath, accordionists Alexander Poeluev and Art Van Damme.
It consists of professional musicians, who graduated from the jazz department of Rostov-on-Don State Sergey Rachmaninov Conservatory (Russia). Their first meeting took place in 1988 when they studied at the Rostov College of Arts. At that time nobody thought that the band will gain such a popularity and success in the future. For more than 20 years of its existence the Quartet has turned into a highly qualified group. Each of the musicians is an excellent soloist and together they are a very bright quartet. Some of their most significant artistic achievements are listed in the following.
1994. The Quartet won the V Prize and the title of the Youngest and most Perspective Group at the Euro-Jazz 94 in Brussels, Belgium.
1995. The Quartet won Grand-Prix and the title of the European Young Jazz Artists of the 1995 at the 14th European Contest of Young Jazz Groups in Leverkusen, Germany.
1996. The Quartet got the title of the Best Group in Audience's choice award at the XXII European Jazz Contest in Getxo, Spain.
Besides the achievements mentioned above the "New-Centropezn" jazz quartet participated in a number of All-Russia and International Festivals, which took place in Russia (St.Petersburg, Novosibirsk, Krivoi Rog, Sochi), Germany, Serbia, Czech Republic etc.
The musicians of the "New-Centropezn" jazz quartet have taken the lead in creating the First Jazzschool for children from three till infinity in Russia, where they work as teachers: Aram Rustamyants is the school director, Andrey Machnev is the artistic director of the Children Big Band, Vitalii Perov teaches electric bass and double-bass and Gregory Deratsuev drums and percussion.
Since 2001, "New-Centropezn" jazz quartet constitutes a rhythm section of the Municipal Jazz Orchestra named after Kim Nazaretov, being a part of all projects. Since 2004, they perform with International "Rostov-Dortmund" jazz orchestra, which later changed the name to East West European Jazz Orchestra. With this big-band "New Centropezn" quartet became a part of certain projects and recorded together 5 CD's with musicians such as: saxophonists Jerry Bergonzi (USA), Uwe Plath (Germany), Ondrej Stveracek (Czech Republic) vocalists Dennis Rowland (USA), Dian Pratiwi (Indonesia) and trumpeter Ryan Carniaux (USA).
The "New-Centropezn" jazz quartet issued 4 CDs: "Breath-taking Breeze" (1998), "Next Step" (2003), "Jazz Fairland" (2007) and "We are 20", New-Centropezn jazz quartet &… special guests (2008). Their CD's mainly present original compositions, which demonstrate two views on music – acoustic and electric.
Andrey Machnev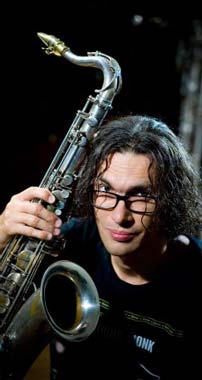 *see East West East West European Jazz Orchestra
Norbert Gottschalk / Freiburg

Registration for the workshop can fill HERE