Seamus Blake & The French Connection
SATURDAY, 17th November 2018.  from 20h
Serbian National Theatre
Seamus Blake, saxophone
Tony Texier, piano
Florent Nisse, double bass
Vladimir Kostadinović, drums
SEAMUS BLAKE, saxophone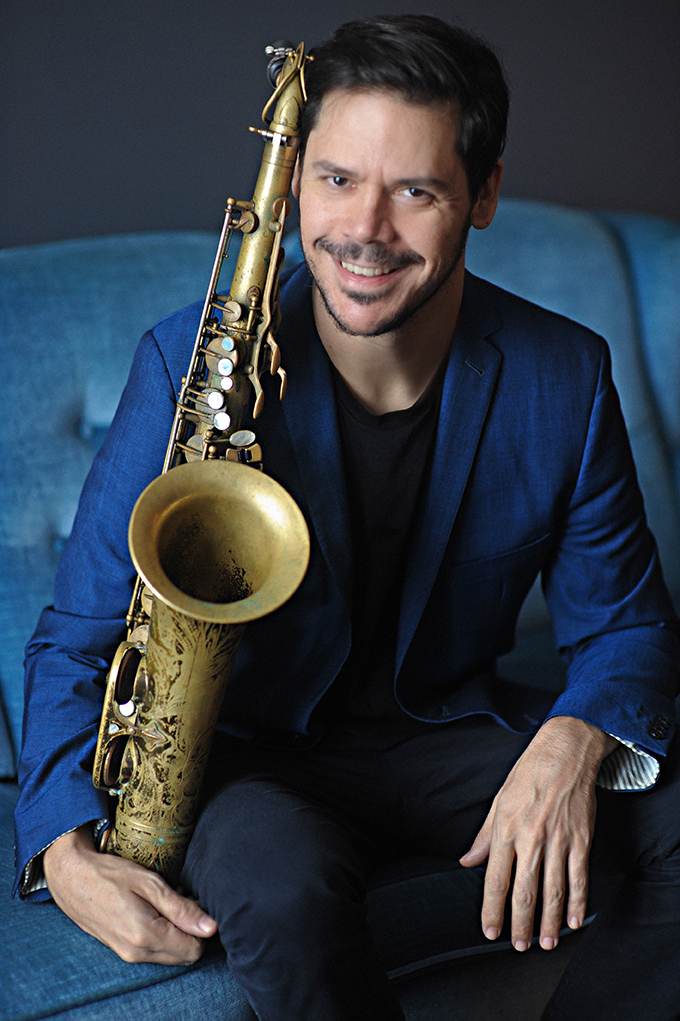 New York based tenor saxophonist/composer Seamus Blake is recognized as one of the finest exponents of contemporary jazz. His music is known for its sophistication, bold improvisations and "sheer swagger". John Scofield, who hired   Seamus   for   his "Quiet   Band," called   him "extraordinary, a total saxophonist." Seamus Blake's latest two releases, Bellwether (Criss Cross Jazz 2009) and Live in Italy (Jazz Eyes 2009), have garnered considerable critical praise for his masterful playing, his fine compositional skills and for his facility as a leader. Live in Italy was awarded 4.5 stars in Downbeat. Described as "a knockout", "one of the elite albums of the year" and "as exhilarating as a shot of espresso", it is on many Top of the Year lists.
Seamus Blake was born December 1970 in England and raised in Vancouver, Canada. At age 21, while still a student at Boston's prestigious Berklee College, he was asked to record with legendary drummer Victor Lewis. After graduation, he moved to New York, where he rapidly established himself on the New York jazz scene. In February 2002, Seamus took first place in the Thelonious Monk International Jazz Saxophone Competition in Washington D. C. As the winner, he performed with Wayne Shorter and Herbie Hancock.
As a leader, Seamus has released six albums on Criss Cross Records, including his 1993 debut The Call. These include the 1995 premiere of the "Bloomdaddies," a "funky, alternative grunge" jazz band that employed electronic effects. He has also recorded as a leader for the Fresh Sound label (Stranger Things Have Happened), and as a co-leader on Mosh for Lovers (Bloomdaddies, co-leader Chris Cheek), and Fear of Roaming (the Sangha Quartet, co-leader pianist Kevin Hays). His band members on these recordings have included David Kikoski, Kurt Rosenwinkel, Larry Grenadier, Bill Stewart, fellow Thelonius Monk winner Lage Lund, Chris Cheek and Jorge Rossy (the Brad Mehldau Trio).
Seamus works with a wide variety of artists. A long-standing member of the Grammy nominated Mingus bands, he is featured on six of their albums.   He continues to play and record with Bill Stewart, Kevin Hays, David Kikoski and Alex Sipiagin, and is a member of the Victor Lewis Quintet. He is also a member of BANN, led by drummer Adam Nussbaum. Their first recording was released in 2010 on the Jazz Eyes label. Seamus is frequently featured as a guest artist. In 2010 he was the guest of honor at the International Saxophone Symposium in Washington hosted by the US Navy Band. Seamus was a member of John Scofield's Quiet Band and toured and recorded with Dave Douglas. Some of the many other artists he has worked with include Eric Reed, Antonio Sanchez, Scott Kinsey, Tal Wilkenfeld, Jane Monheit, Kenny Barron, Sam Yahel, Michael Brecker, Randy Brecker, Wayne Krantz, Ingrid Jensen, Maria   Schneider, Mark Turner, Brad Mehldau, Al Foster, Brian Blade, Jeremy Pelt, Jack DeJohnette.
In 2015/2016 Seamus was touring with Antonio Sanchez's band Migration as well as leading his own projects.
In January 2016 Seamus released a new project called Superconductor featuring (Scott Kinsey, Matt Clohesy John Scofield, Nate Smith and Gonzalo Rubalcaba) on the 5passion label. A new release is scheduled for 2019. In February 2017, Seamus Blake toured France, Belgium and Spain for 11 dates playing his own original compositions with this new exciting quartet, which features some of France's hottest young lions: Tony Tixier on piano, Florent Nisse on bass and Gautier Garrigue on drums.
Following the incredible reception received from this tour, Seamus decided to take this project further and record a first album in November 2017 in the Studio de Meudon (Paris). This album "Guardians of the Heart Machine" will be released worldwide on March 3, 2019.
The album mixes European and American style jazz that is melodic and rhythmically energized. For the concert in Novi sad we will have the great Lawrence Leathers rounding out the quartet.
TONY TIXIER, piano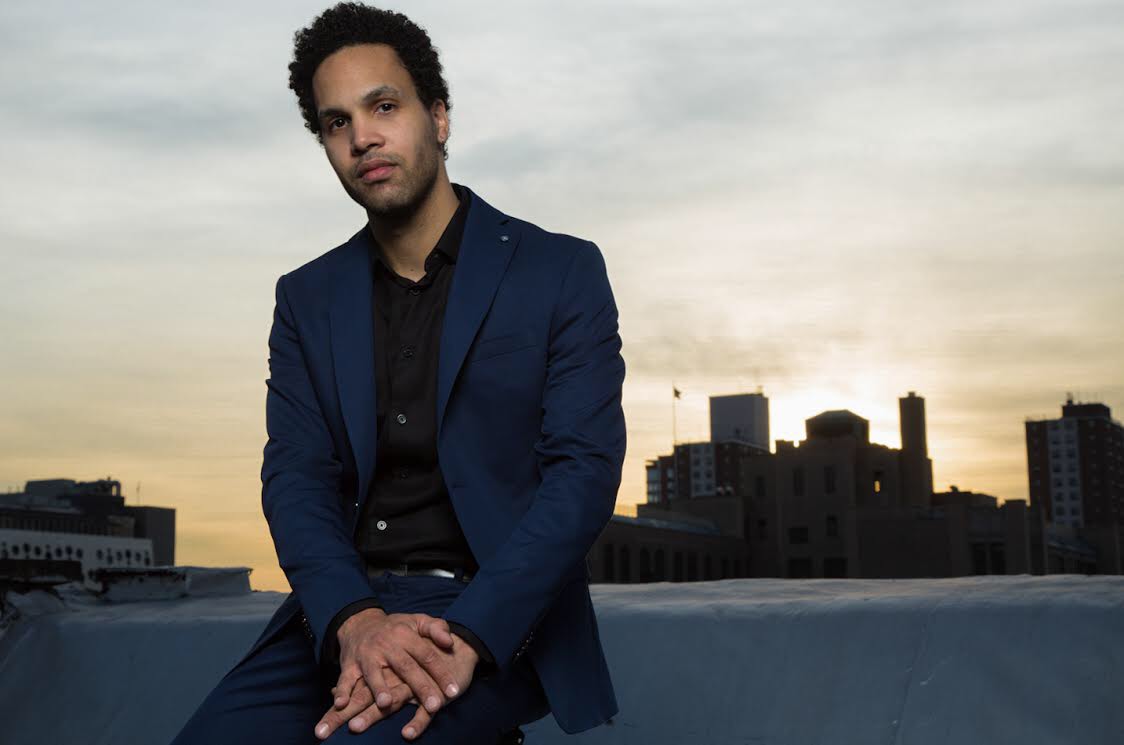 Tony Tixier, born in 1966 in Montreuil, France, is a French jazz pianist. He started studying classical piano at the conservatory at age sixteen. He made his first stage appearance at age seven. He studied choral, classical harmony and counterpoint, writing and composition.
In 2012, he joined the Space Time Record label for which he recorded the album Dream Pursuit with his quartet featuring Justin Brown, Logan Richardson and Earl Burniss Travis. The album was labeled a "revelation" by Jazz Magazine.
In 2012 he opened for Herbie Hancock at the Jazz En Tete Festival in Clermont-Ferrand with his twin brother, violinist Scott Tixier.
In 2013, he founded the chamber ensemble Moon Paradox for which he composed a concertino for piano and string quintet in seven movements, mixing classical writing with jazz and contemporary music. In addition, he led an intense concert activity in France and abroad.
In 2014, Tony and Scott Tixier starred in commissioned work by the artist Janet Cardiff. They also improvised and composed the music for the project that was a part of the inaugural program for the Louis Vuitton Foundation Paris (building architect Frank Gehry).
In 2015, he began to play at Radio City Music Hall as the pianist for the NBC TV show America's Got Talent.
In 2016 he played on The Tonight Show Starring Jimmy Fallon and performed in a Tommy Hilfiger campaign with top model Gigi Hadid.
His latest CD Life of Sensitive Creatures, with Harish Raghavan on bass and Tommy Crane on drums, will be released shortly on Whirlwind Records. Recently, he has been touring/playing with Wallace Roney, Logan Richardson, Christian Scott and Jacques Schwarz Bart, to name just a few.
FLORENT NISSE, double bass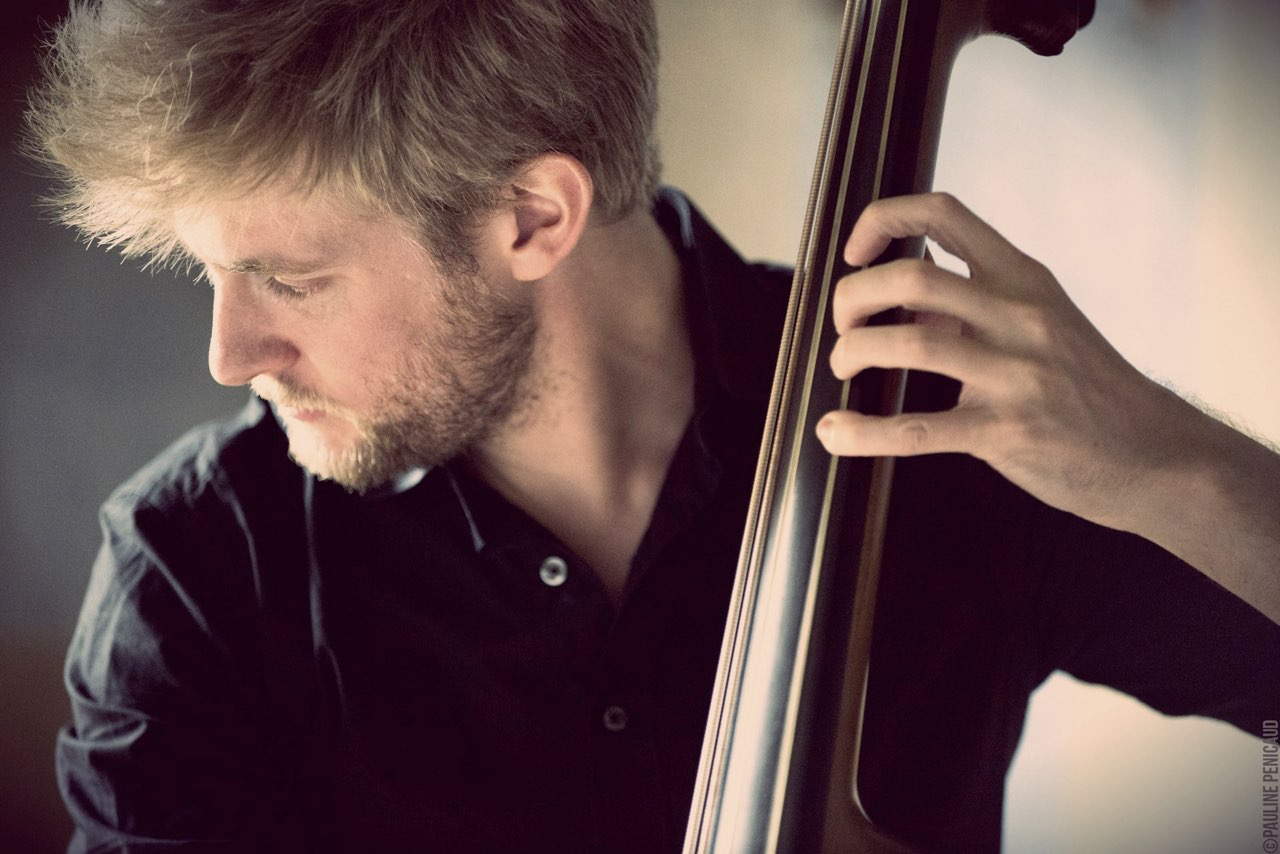 Born in 1983 in Colmar (France), Florent Nisse started studying double bass at the age of six. In 2002, he moved to Lyon in order to attend an engineering school. While studying science he never stopped his musical studies, and in 2007 achieved three degrees; one in mechanics, one in classical music and one in jazz music. Very active on Lyon's jazz scene at that time, Florent chose to give up science and to follow a musical career. A year later, he was accepted into the Paris Conservatory (CNSM) in Jazz, in Riccardo Del Fra's class. He graduated in 2011.
Professionally, Florent Nisse started his career in Lyon before moving to Paris in 2008. There he quickly became part of the rising generation of jazz musicians, and had the opportunity to perform both with rising artists (the David Enhco Quartet, the Fred Borey Quintet, Flash Pig, the Thomas Enhco Trio, the Shauli Einav Quintet) and with more established ones (the Yaron Herman Quartet, Didier Lockwood, Michel Portal, the Stéphane Guillaume Quintet, the Logan Richardson Quintet, Emile Parisien). In 2012, Florent Nisse also started his career as a leader and recorded his first album, Aux Mages, released in 2014 for Chris Cheek.
VLADIMIR KOSTADINOVIĆ, drums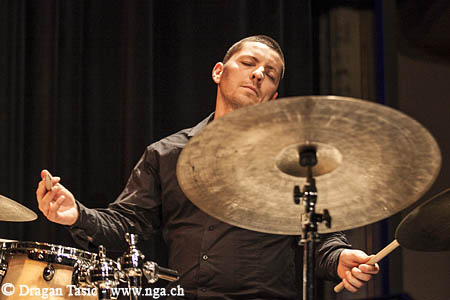 Vladimir Kostadinović, award winning drummer (Tuscia in Jazz 2008, Jimmy Woode Competition) bandleader, composer & arranger started his musical education at the age of five when he began studying classical accordion. He also started playing the drums professionally at the age of eleven. Drums has always been his real love and he wanted to pursue it, with a passion! Vladimir ranks high among drummers who are versatile and savvy enough to play different styles of music, as a sideman and with his own projects. In August 2009 he was invited to perform with a master of organ Tony Monaco. During that time Vladimir also formed his own quartet with Jimmy Greene, Danny Grissett and Matt Brewer which featured his own compositions. In 2009 he went into the studio in New York with his band and recorded his CD "COURSE OF EVENTS". Shortly thereafter he joined the band Antonio Farao Trio, with whom he is currently playing and traveling all over Europe. Vladimir also recorded his second album as a leader "THE LEFT SIDE OF LIFE"  feat. Seamus Blake, Joe Sanders and Marko Churnchetz live at the Generations Jazz Festival in Frauenfled Switzerland, which was released on ENJA Records in 2016. ​He published 2 CD's under his own name and recieved rave reviews all over the globe among others in the influential Modern Drummer, Jazz Times, Jazzthing, Jazzpodium and All about jazz Web portal,etc. In last few years, Vladimir has spent a lot of time playing and recording in The Big Apple with many great jazz musicians on the world scene.