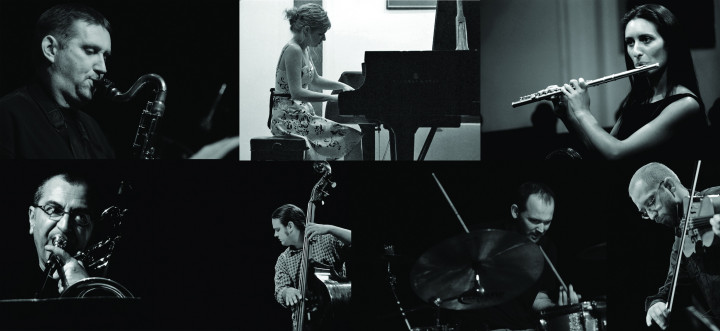 MONDAY, 4THNOVEMBER 2013
Studio "M", 8pm
Concert
SZILÁRD MEZEI, viola
ANDREA BERENDIKA, flute, alto flute
BOGRAD RANKOVIĆ, alto sax, bass clarinet
BRANISLAV AKSIN,trombone
MARINA DŽUKLJEV, piano
ERVIN MALINA, double bass
ISTVÁN CSÍK, drums, percussions
SZILÁRD MEZEI
Szilárd Mezei was born on February 12th 1974 in Senta. He graduated from elementary and high school of music (violin department) in Senta and Subotica. He studied composition at the Faculty of Music in Belgrade, mentorship of Professor Zoran Erić.
As a violin, viola, contrabass player and composer with his various bands (from duo to ensemble) from 1990 he has performed in many cities in Europe and Japan.
With the ensembles he plays contemporary improvised music, mostly his own compositions. As a composer, he is primarily interested in the connection between improvisation and composition (as well as aleatoric music of Lutoslawsky type and creative music of Anthony Braxton), jazz and folk music. As a young musician, he followed in footsteps of György Szabados and Bela Bartok. He actively works on theater music as well, and has been cooperating, full time, with the world known choreographer of Kanjiza origin, Josef Nagy. He is the author of over forty compositions for theatre plays.
He also plays authentic folk music and improvised music based on folk music, on folk instruments oud and kobza.
With his ensemble he has played at the concerts in the country and abroad (Hungary, Slovenia, Poland, England, Austria, Germany, France, Italy, Belgium, Japan).
So far, he has released over 30 CD's and 2 LP's for various record labels in Hungary, England, Portugal, Sweden, Poland, Canada, France, Lithuania and The USA.
He mostly composes music for his various ensembles, as well as for chamber ensembles. He is the author of over 200 compositions.
Awards:
1996 – Düsseldorfer Altstadt Herbst, Special improvisation award (duet with the pianist Valentina Cesnjevar), Düsseldorff, Germany.
1998 – International Composers' Forum, Belgrade, Third award (student category) for the composition (TRIO) for the flute, piano and percussions.
2000 – Sterija Award for the music for the play "Taming" of Novi Sad Theatre
2004 – 54th Festival of professional theatres of Vojvodina, Subotica, award for music in the play "Via Italia" by Novi Sad Theatre.
2009 – "Joakim Vujić Award" for music in the play "Bura" by National Theatre Niš.
2009 – Award FORUM of the house "Vojvodinian art award" for his work in the field of music.
2010 – Sterija Award for the music in the play "The Rose from Chisinau", by the theatre "Dezső Kosztolányi", Subotica.
2012 – Award for the Best Music, for the music in the play "Maret The Sade" by Novi Sad Theatre at the Festival of Professional Theatres of Vojvodina.
He is a member of Serbian Composers Association and also a member of the organization "Győrfree" (workshop for jazz, improvised – contemporary – and folk music), Hungary.
As a lecturer and participant he took part in many workshops for improvised music, as well as in the workshops for intuitive music at the courses for personality development. He often plays along with prominent improvised music musicians in the country and abroad. He has published texts about music in the magazines:Orbis (Kanjiza), Új Symposion (Novi Sad) and Műhely (Győr, Hungary).
He currently leads the Mezei Szilárd Trio/Quartet, Mezei Szilárd Septet and the Mezei Szilárd Ensemble, and works with many formations (duo, trio, etc.) of contemporary improvised music (a.o. Briscoe – Mezei – Guazzaloca Trio (IT-SRB) Michael Jerfy Stevens – Szilárd Mezei Duo (USA-SRB), Mezei – Hemmersam – Stevens Trio (USA-DK-SRB), DUH Quartet (D-H-SRB).