GOLNAR SHAHYAR, voice & percussion
MAHAN MIRARAB, guitar&fretless guitar&setar
MARTIN HEINZLE, double bass
WOLFGANG RAINER, drums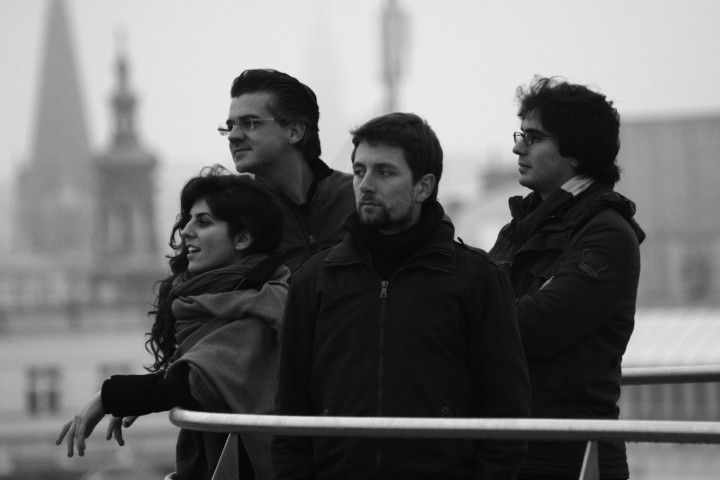 Since spring of 2011, Mahan Mirarab and Golnar Shahyar started a collaboration to bring their musical ideas to life. Infused with jazz musicians, Martin Heinzle on contrabass and Wolfi Rainer on drums, their music has created an original sound, mixing Persian music, western jazz harmonies, as well as African and Latin beats.
As a result of a lack of appreciation for international music forms in Iran, Golnar and Mahan both chose something other than music as their field of study (for Shahyar, Biology and for Mirarab, Architecture) before they dedicated themselves to music after moving to Europe.
As a self-taught jazz guitarist, Mahan was eager to create a new kind of music rooted in his own culture and his passion, jazz music. Therefore he started to learn classical Iranian music by playing tar and setar. He was part of the jazz scene in Iran and played with various international artists before moving to Vienna to further his musical careeer. "Persian Side of Jazz", his first trio project in Vienna, is one of his achievements from the musical experiences he had in Iran and Europe.
Golnar Shahyar decided to choose the life of a musician while she was finishing her studies in Biology in Toronto. After moving to Vienna she entered the University of Music and Performance Arts in order to master the art of singing. In addition to her highly innovative world music projects, Sormeh and Gabbeh, she has also demonstrated her performance talent in the experimental suite of Mathias Ruegg in Rorgu and Bess as reciter of Gertrude Stein texts, as well as collaborating with the Swiss ac- cordionist, Hans Hassler.
In Choub the 27-year old vocalist interprets lyrics of the Persian poets, Hafez and Omar Khayyam, as well her own lyrics in Farsi, English and an improvised fantasy language.
What the musicians in Choub hope to inspire through their vivacious music is a sense of living in the moment, by striving to break the boundaries of the psyche and reach the state of pure connection and creation. The euphoric bliss of the audience after each concert is a testament to their success. Choub is not an ordinary ethno jazz quartet. It is original like an original handicraft. The band is called Choub, the Persian word for wood, to emphasize that. One can associate the name with many things such as the wooden body of the guitar or the contrabass or the drum sticks. It is the rhythmic play of knocking on wood, or the wood of the walnut tree which Mahan's setar is made out of.
Choub's music is playful and dynamic. It is musical expansion and cosmopolitan jazz with a Persian aroma.
GOLNAR SHAHYAR
Golnar Shahyar (born February 1985, Tehran, Iran) is an Iranian vocalist and songwriter. She started her first musical training by playing piano at the age of 11. At 16 she moved with her family to Canada in search of a better life. She studied biology leading to a B.Sc. degree at the York University in Toronto, while taking classical singing lessens as her hobby. Soon she realized she has only one passion to follow and that is music. In her next move she chose Vienna to pursue her dream of becoming a musician, which she continued taking lessens in classical music to improve her singing talent. However, meeting Elfi Aichinger was a turning point in her style of singing and the path she chose to follow in her carrier. Vu Aichinger she was introduced to different styles of singing and was led to look at her voice as an instrument. Golnar is currently studying Jazz singing at the University of music and performing arts. In the meantime she has been an active member in three different projects, namely Choub, Sormeh and Gabbeh. Her projects and music incorporates a mix of ethnic Jazz, world music and performance.
MAHAN MIRARAB
Mahan Mirarab born on 13 July, 1983 in Tehran, is a self tought guitar player and composer. Since 2006 he has been active in jazz and world music scene, as guitar and fretless guitar player as well as band leader. The main idea of playing fretless guitar is on the one hand the difference between Persian and classic scales, because of existence of quarter tones in Persian music which makes it possible to be played on fretless guitar, and on the other hand it derived from his intention to find an appropriate and sufficient instrument that can accurately describe and express Iranian identity in his musical character. Mahan's first experience on the music scene was the collaboration with Vahag Hayrapetian, an outstanding Armenian piano player. Right after that he established his first band, Abrang Quartet. Beside his own project he cooperated on many concert and recording sessions as a sideman during all this time. On 2008 he finished his studies in architecture in Tehran Art and Architecture University and decided to move to Vienna. There he recorded the Album "The Persian Side Of Jazz" with Wolfi Rainer (drums) and Robert Jukič (bass). This album was a combination of Persian folk and traditional music with jazz. He has performed with this project in different countries like France, United States, Austria, Germany, Netherlands, Iran…
MARTIN HEINZLE
Martin Heinzle grew up in the western part of Austria and moved to Vienna in his late teens to study double-bass at the city conservatory of Vienna. After being a part of Trio Novalis and winning two Fidelio-Awards with the group, he took classes with Mario Rossy and Gary Willis at the Escola Superior de Musica de Catalunya in Barcelona for one ueag. After moving back to Austria he completed his studies at the Institute for Jazz and Improvised Music with Peter Herbert, while also taking classes in classical double bass with Anton Schachenhofer. Ever since he is a well sought after sideman in the Austrian Jazz and World music scene playing all sorts of styles varying from straight ahead jazz, to tango nuevo, flamenco, singer-songwriter and classical crossover projects. In 2012 his camber music trio Mallinger Schraml Heinzle released their debut "Jetset Suite" on Listen Closely. His work as a composer can be heard in the documentary "Kortokraks" directed by Austrian filmmaker Petra Hinterberger. Lately he has been coordinating his own series of concerts besides passing on his musical knowledge at the municipal music school of Vienna.
WOLFGANG RAINER
Wolfi Rainer was born in 1977 in Innsbruck, Austria. After taking first musical steps on the piano he started to play the drums at the age of 13. He studied at the local music school and the Conservatory of Innsbruck. Besides his activities in classical orchestras and marching bands he also played in a rockband. After finishing Highschool he moved to Graz in 1999, where he applied at the University of Music And Performing Arts (KUG). In 2004 he was sent to the IASJ Meeting in Freiburg to represent the KUG. In 2005 he finished his studies summa cum laude. Therefore he received the principars appreciation award which made it possible to progress to his studies in the USA. In 2006/07 he lived, studied and worked in New Uogk City for six months. He took lessons with Ari Hoenig, John Hollenbeck, Ian Froman and Guy Licata.
Besides his work as a sideman Wolfi Rainer appears as the leader of his electronically orientated band Cosmonique and the Wolfi Rainer Band. He performed at music festivals in Austria, Germany, Ex-Jugoslavia, the USA and Japan. At the moment he lives as freelance musician in Vienna.