JOAN FAULKNER, voice
JOANNE BELL, voice
HARRIET LEWIS, voice
THE GUSTAV CSIK TRIO
(with the support of the US Embassy in Belgrade)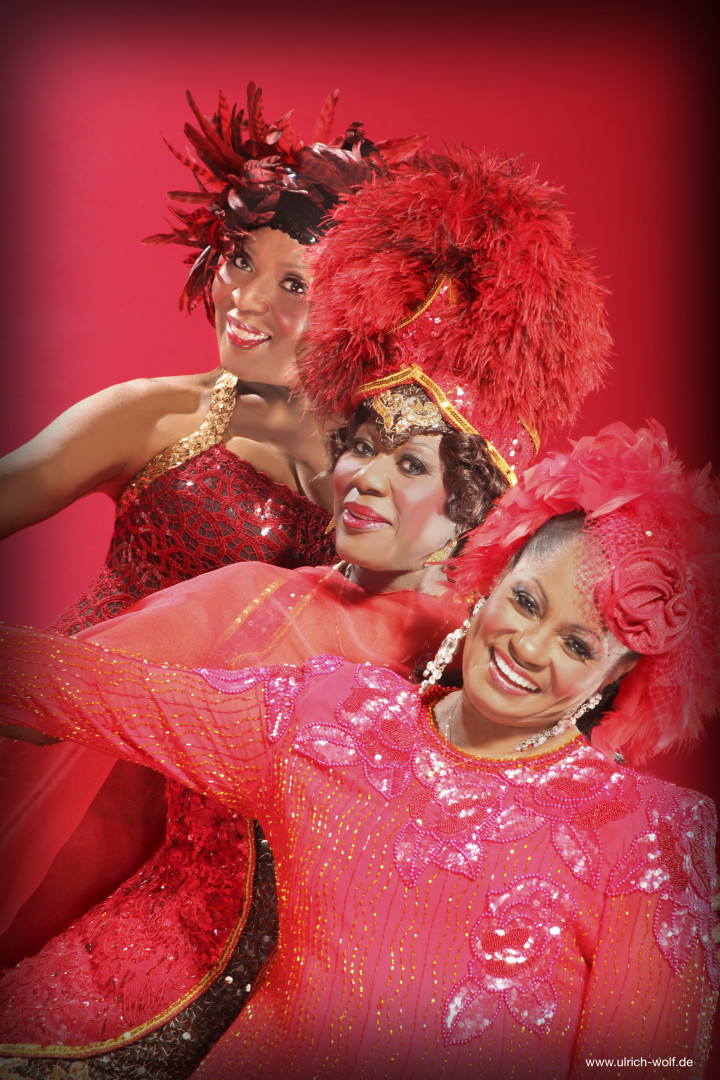 THE THREE LADIES OF BLUES
A Tribute to the great Ladies of Blues
The THREE LADIES are a total knock out! They sing the same way they look: powerful, swinging and sexy! Power and range, vocal and emotional virtuosity, intense, simply grand! Three different, but outstanding voices, eye and earcatching, they are a real trip!
The show of the THREE LADIES will pay tribute to the great Ladies of Jazz, Blues and Gospel as Bessie Smith, Billy Holiday, Diana Washington and many more of the stars of black American music, so that the memory lives on.
The audience will be captured and set back into the Harlem of the early years. Yes theses ladies can sing! With swing in their music, joy in their souls; they are the personifi- cation of the human happiness, a vitalizing gleam of excitement, fresh, outgoing, ener getic performance!
This is a three woman – show, Fans of black music will get the whole palette of Blues, Gospel and Jazz.
"Jazz und Blues at it's best!"
JOAN FAULKNER
Joan Faulkner originally from Gary, Indiana (USA), called "The Voice" has captivated and conquered audiences throughout Europe and the US since decades. She had began her singing career at the tender age of 3 in her father' s church in Chicago, by the time she was 14, she was directing the choir, by the time she was 17, she had recorded her first song and has become the assistant director of the Indiana state choir. Because of these gospel roots Joan' s talents were cultivated, and she is able to interpret any song with feeling. Her powerful array of R&B, Jazz, Gospel, Spirituals, Pop, Classical vocals over the musical spectrum, leaving no grounds undiscovered. Whether she is performing before thousands o, or a dozen, she has the ability to reach each and every person. Her audience is often captivated not only with her voice, but also with her personality. Joan Faulkner came to Europe as a military wife in 1978. Since that time no one could stop her fast growing career, which started with Pop music, where she has several chart hits. It includes performances with Percy Sledge, Les McCann, the Weather girls, Linda Hopkins, Ray Charles and many other European Jazz greats and Big Band performances such as Peter Herbolzheimer, NDR Big Band, Thilo Wolf Big Band and many others. She has won several awards and has acted in a popular German TV series.
JOANNE BELL
Joanne Bell was born in Riverside, California. Joanne made her first solo stage appear- ance at age four in the musical production "Singing In The Rain" with the oldest continuously active community theatre group in the United States. When Joanne began her university studies, she entered the world of opera. Although Joanne has trained diligently as an opera singer performing such roles as; Carmen in Carmen, Tosca in Tosca as well as considerable works by G. Mahler, she has worked just as hard at mastering the art of improvisation. This has rendered her a uniquely versatile song stylist intent on promoting the American Classics; Spirituals, Gospel, Musical Theater, Blues and her favourite, Jazz. Currently residing in Europe, Joanne performs, teaches, writes and produces shows, mu- sical theatre pieces and songs, the most recent: "Oh Happy Day" – The history of Gospel music and "Bessie and Billie" – A Jazz theatre piece, together with Cynthia Utterbach.
HARRIET LEWIS
Harriet Lewis was born in Philadelphia, Pennsylvania a descendant of Jamaican Heritage. She began singing in the Baptist church at the age of 12 years and became the director of the Baptist choir which performed throughout Philadelphia, PA. She later formed a choir with the help of her mother consisting of children ages 5 years to 17 years old. They performed concerts throughout the Eastern Coastal Region of the U.S., singing acappella vocal arrangements by Harriet. Harriet received her first formal training at Sherwood Recreation Center in Philadelphia, PA and studied dance including Ballet, Tap, Modern Jazz, African and Modeling.
The voice of the singer from Philadelphia is a natural phenomenon, a bubbling volcano! This praise stretches through almost all concert criticisms if she sings. With perfect stage presence she makes the most of all emotions. Mime and Gestik underline the expressiveness of (her) voice.
Through the success of her music, Harriet is recognized as "The Best Soul, Blues, Jazz singer" in Europe with a Deutscher Rock & Pop Musikverband e.v. 1995 Music Oscar to her credit. Now Harriet she's one of the best Blues-woman of international Blues scene and she's performing in many clubs and festivals with a great success.
THE GUSTAV CSIK TRIO
Gustav Csik is one of the great jazz pianists of today. He is a graduate of the Miskolc's Music Conservatory. His first paid performance was at the age of 16. He taught piano at the Music School OSK in Budapest, Hungary for 10 years. Coming from a musical family of Piano and Violin composers, it's no surprise when you hear and feel Gustav's virtuosity in playing the piano. He is greatly influenced by America's greatest Jazz Pianists such as: Oscar Peterson, Art Tatum and Earl Garner.
Because ofhis talents, he has performed and recorded with: Dizzy Gillespie, Eddie "Lockjaw" Davis (3LPs), Jimmy Woody, Bassist for Duke Ellington, Ed Thigpen, Drummer for Oscar Peterson, Johnny Griffin, Saxophonist Reggie Johnson, Kenny Clark, Alvin Queen, Bobby Durham, Drummer for Ella Fitzgerald. As many pianists of the past and present have learned to perfect their musicianship by working alone in many hotel bars and clubs, Gustav Csik is no different. His experience has come from playing in the exclusive hotels in Europe. Two of the most famous known to the worid in Switzerland is the Palace hotel in Gstaad and the Jungfrau Victoria Hotel in Interlaken.
The piano is Gustav's heartbeat, which plays out the feelings and emotions that, touches you like magic.